Walking into the romantically-lit restaurant in the Fairmont Heliopolis Towers, we were instantly drawn in by the smells coming from the kitchen. We were welcomed by the charming manager who brought out the magnificent Chef Diego Ayala to passionately explain what we were in store for that evening. We sampled nine courses of the most exquisite Mexican fusion food, each dish expertly tailored to give us a rich array of flavors, with avocado taking a center stage as part of their new avocado-inspired menu.
Whilst we waited for our first course to arrive, we snacked on some Doritos chips and salsa and admired the rustic decor. The first dish was a mouth-watering Middle East Guacamole, a clever blend of the traditional avocado with some hummus, which served alongside some crispy flatbread created the perfect more-ish combination. We were then treated to some delightfully cheesy Shrimp Quesadilla, with chili on the side for the more adventurous amongst us. Warm and easy to eat, our stomachs were already feeling very happy, still with many more courses to look forward to.
Crispy tortilla topped with avocado, tuna and mushroom as well as some chipotle chili was next in store. With some shredded fried leek on top, these little appetizers were full of interesting textures and tangy flavors.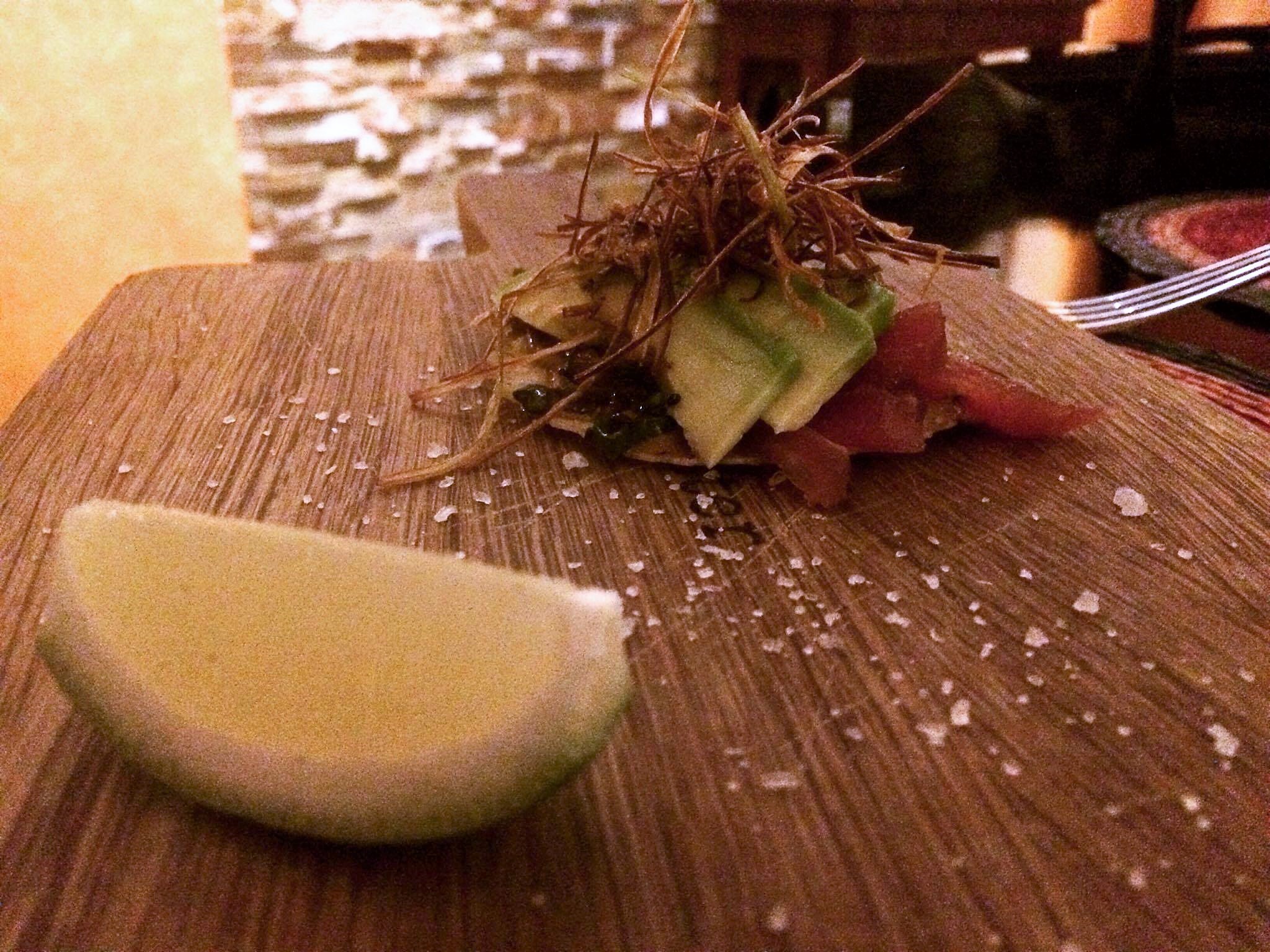 The next dish was something exquisite, Black Salmon Steak, and Black Halloumi for the vegetarian option. The spicy black coating was topped with an array of sweet and savory flavors, of course with avocado adding a slight creaminess to the mix.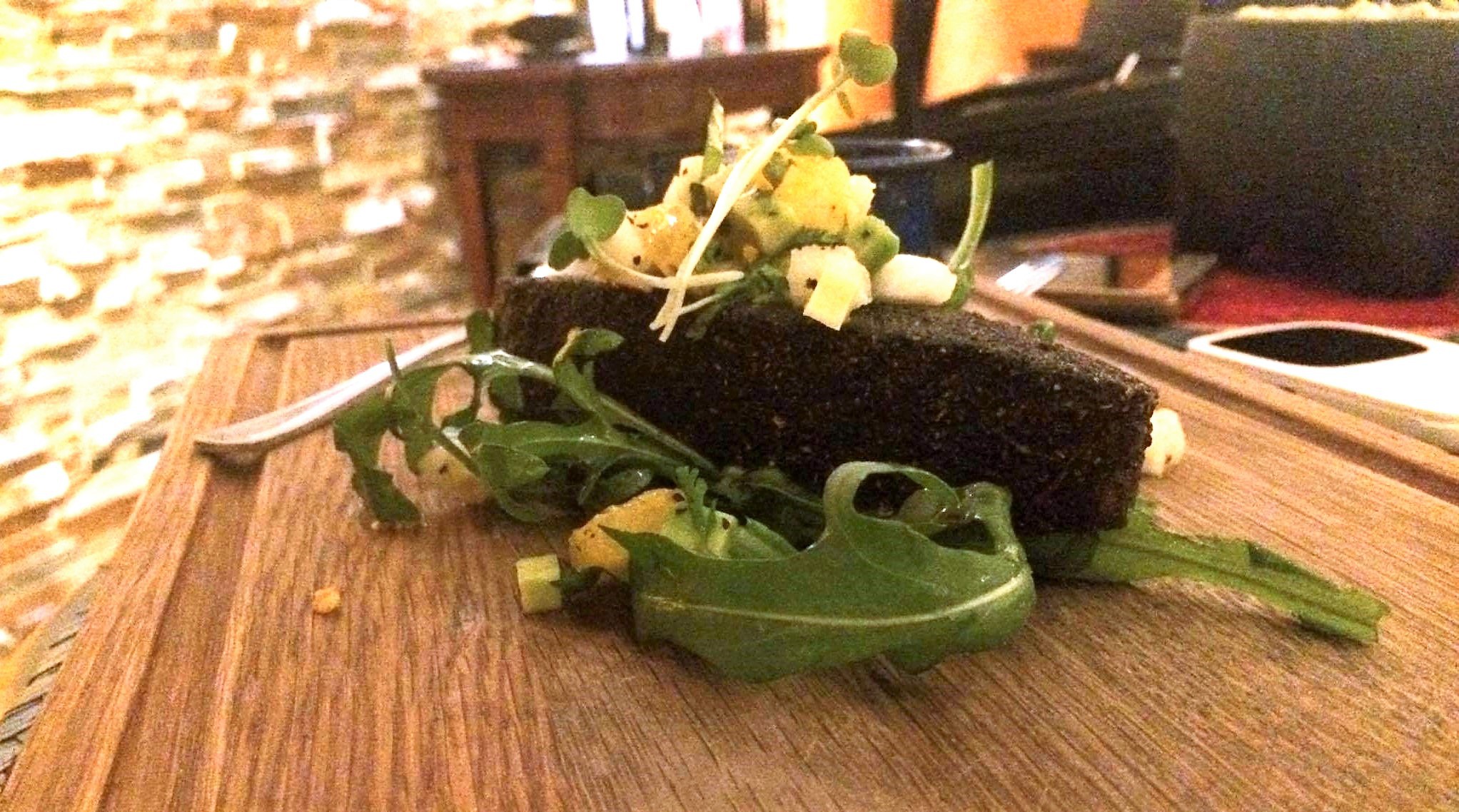 For the next main course sample, we experienced the authentic Mexican dish, the Chicken Pibil. The dish involves baking chicken in a marinade of sour orange and pineapple in a wrapping of banana leaves, ending up with a beautifully smoky, sweet flavor.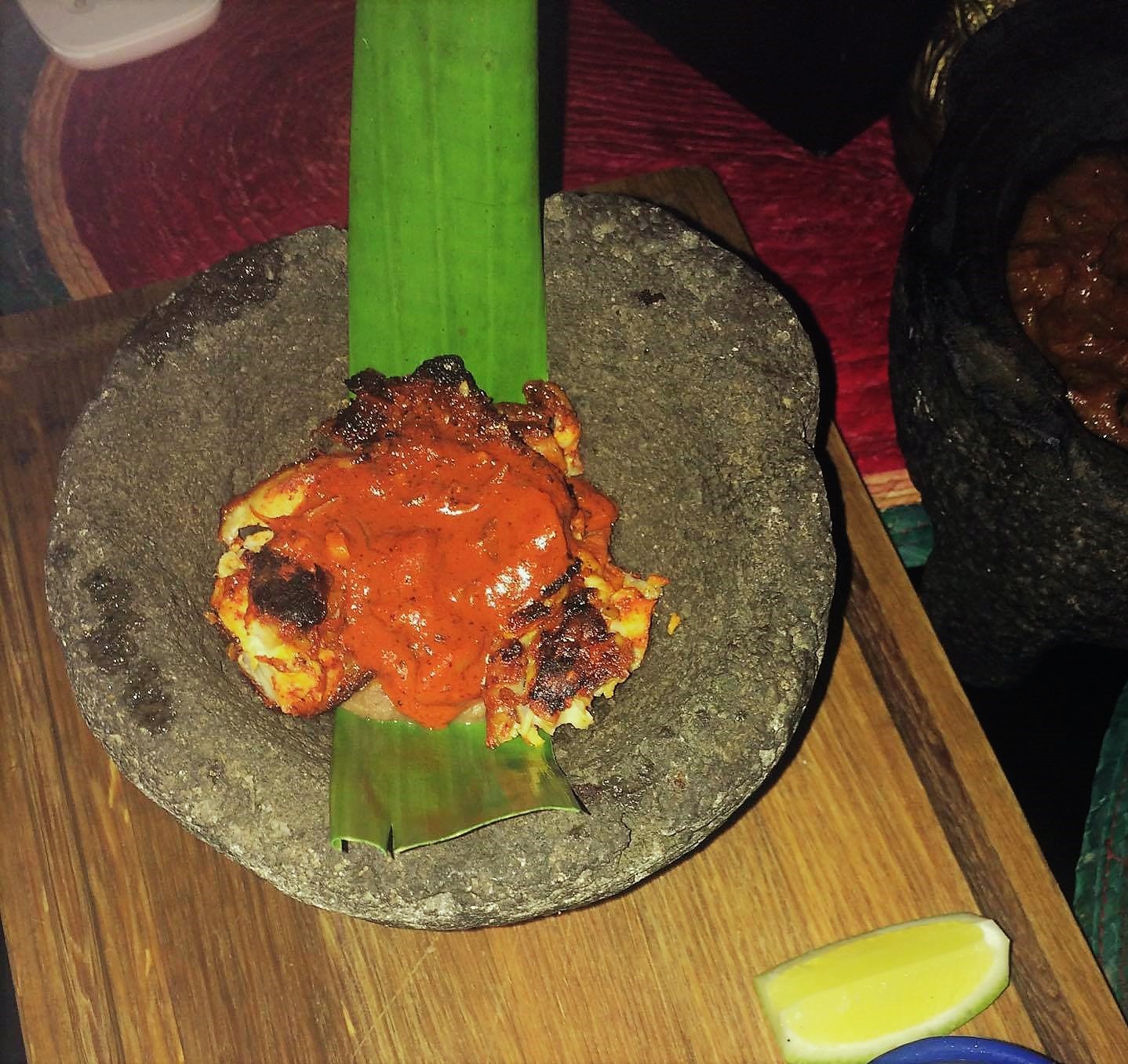 Our final savory dish was the Enchilada Suiza, a soft taco containing grilled tomato, chicken, rice and melted cheese. An interesting twist to the traditional enchilada dish, the layout looked like a piece of artwork, almost too good to eat!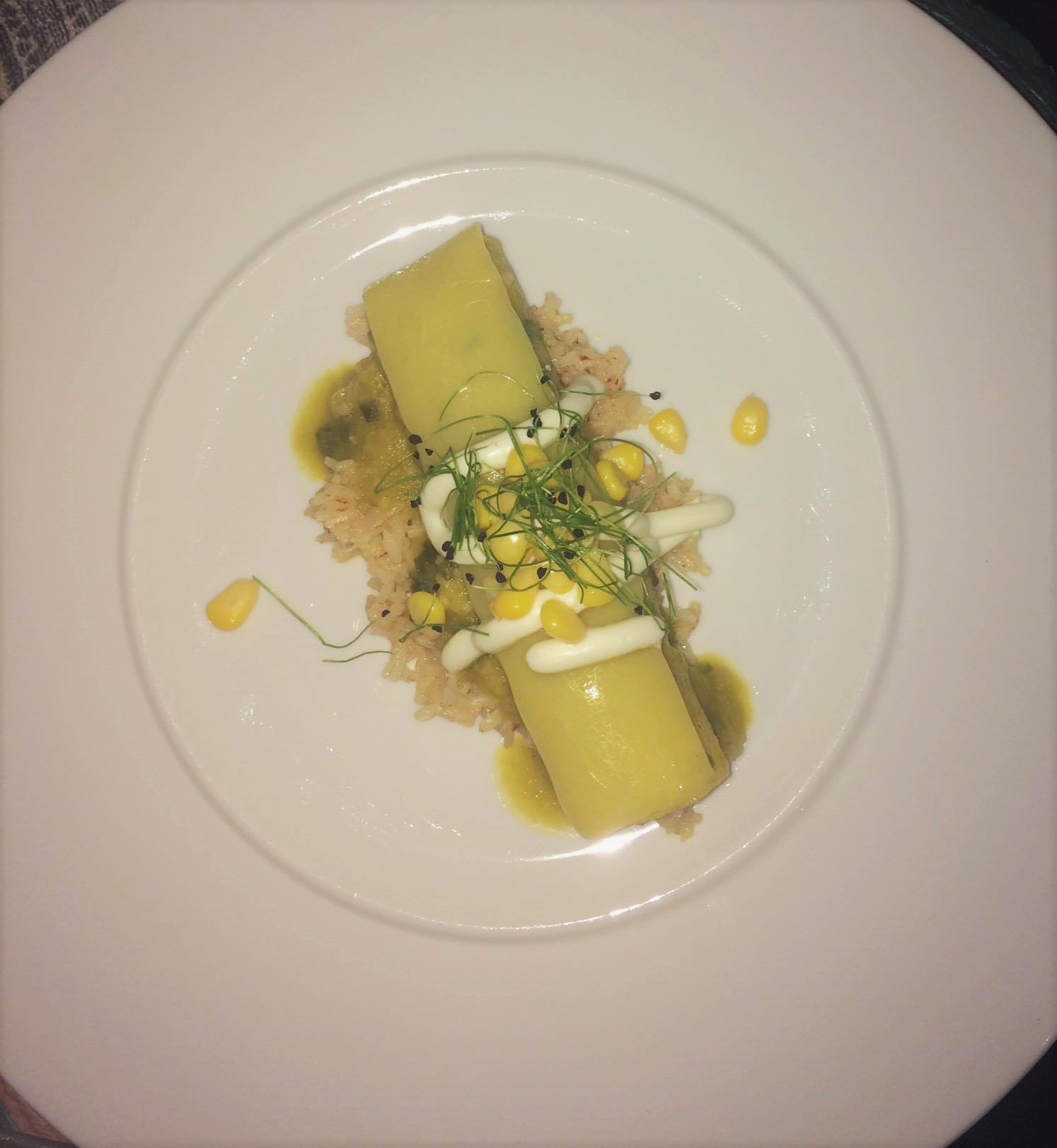 We sipped on some virgin cocktails and relaxed on the comfy chairs and tried on some fantastic sombreros, taking a break before indulging in our THREE desserts!  Dessert number one was a Cornet Cake, the warm cake with cold vanilla ice cream and candied goat milk was both delicious and a wonderful sensory experience with the merging of hot and cold.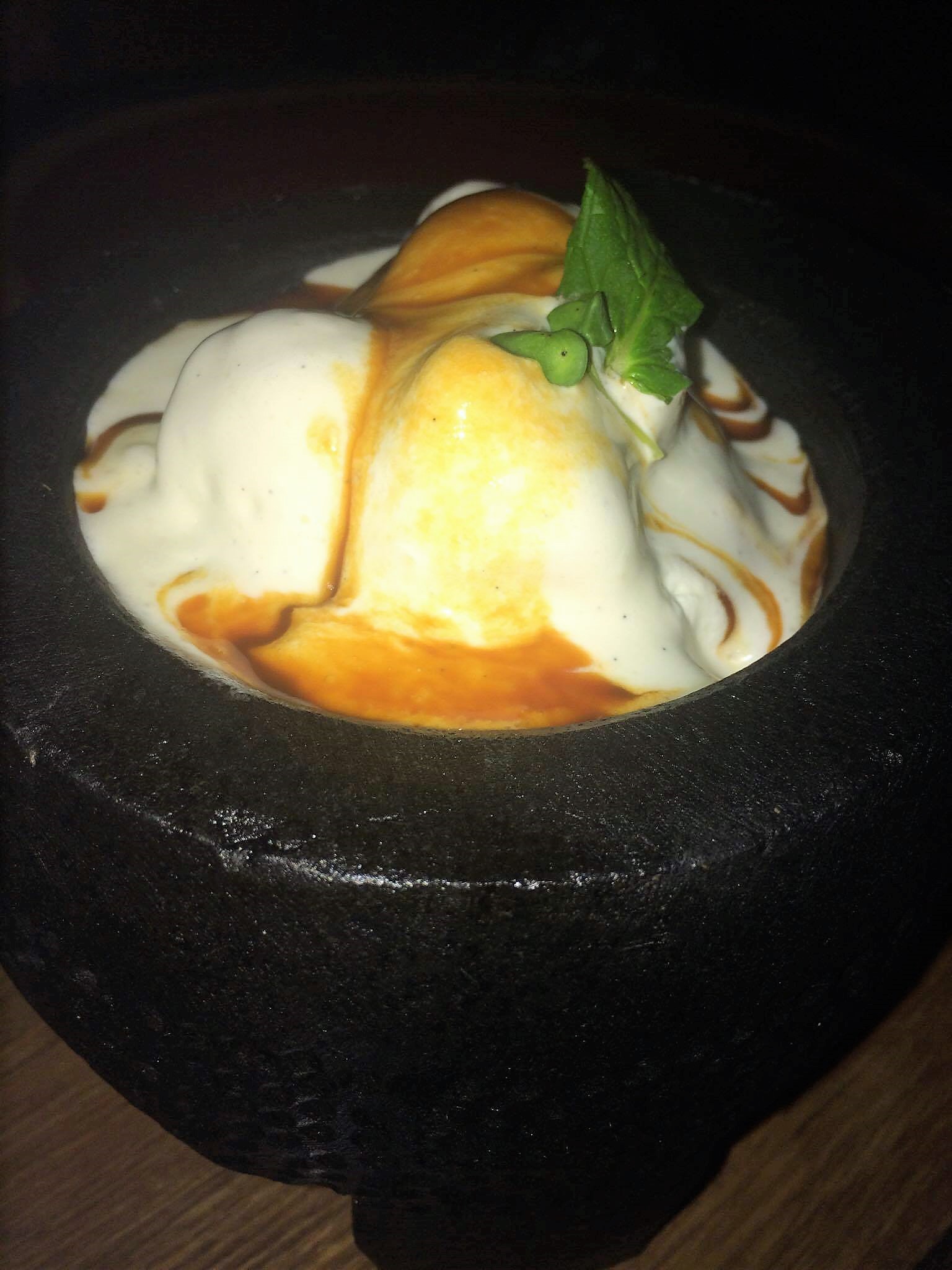 The next dish was definitely something special, the layout and concept were incredibly creative. Out came a flowerpot with a sprig of mint sticking out. Chocolate sugar made to look like soil topped some creamy avocado ice cream. Not only did it look brilliant, the flavors complemented each other perfectly, making avocado ice cream a surprising favorite of ours.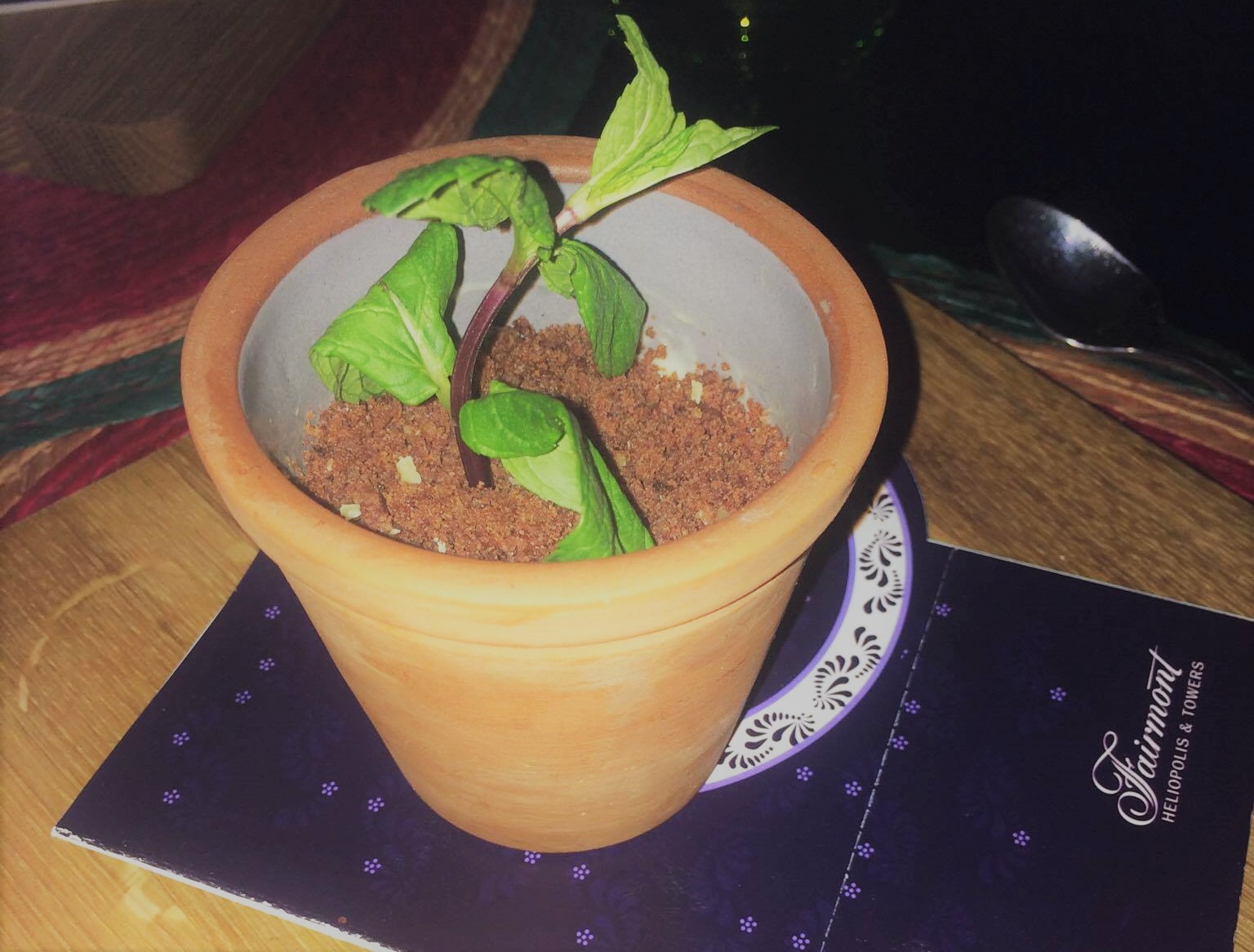 So full, we could barely eat anymore, Chef Diego brought out our final dish, a mix of churros. Not content with just repeating the usual recipe, we were introduced to many new flavors with some made from deep fried pasta dough, some filled with Chantilly cream and of course a scrumptiously sweet agave sauce to top it all off.
After an incredible taste-bud experience brought to us by a charming and creative Chef, we would definitely recommend Maria's. With all the exciting fusion flavors, from spicy to sweet to sour, those who are a bit adventurous when it comes to food will absolutely fall in love with this place. But take note, the avocado-inspired menu is only here for a short time only so be sure to go soon to experience it!