After dealing with many clients during my interior decorating career, I realized that many clients fear adding colors to their home not because they don't like colors, but because they aren't really sure how to mix them together. Mixing colors can create a huge difference in the mood of a space; but yet lots of people tend to live with an all-beige, all-grey color palette for years just because they do not know where to start.
It is about time that we overcome this obsession with neutrals. So how can one break the neutral habit, and start introducing color to their home?
Color one of the walls
Choosing to color one of the walls in your home is the simplest and fastest way to spice up a room, creating a fresh new look with minimal cost and effort. Pick a focal wall that will draw your visitor's eyes to it as soon as they enter the house. This will add excitement and give out a first impression that will last forever.
You have to be careful when choosing which wall to paint as it can look odd and unpleasant if it's in the wrong place. Make sure you choose a color that harmonizes with the adjacent color. If in doubt, paint your accent wall the same color but a shade darker than the rest to create a foolproof curated look!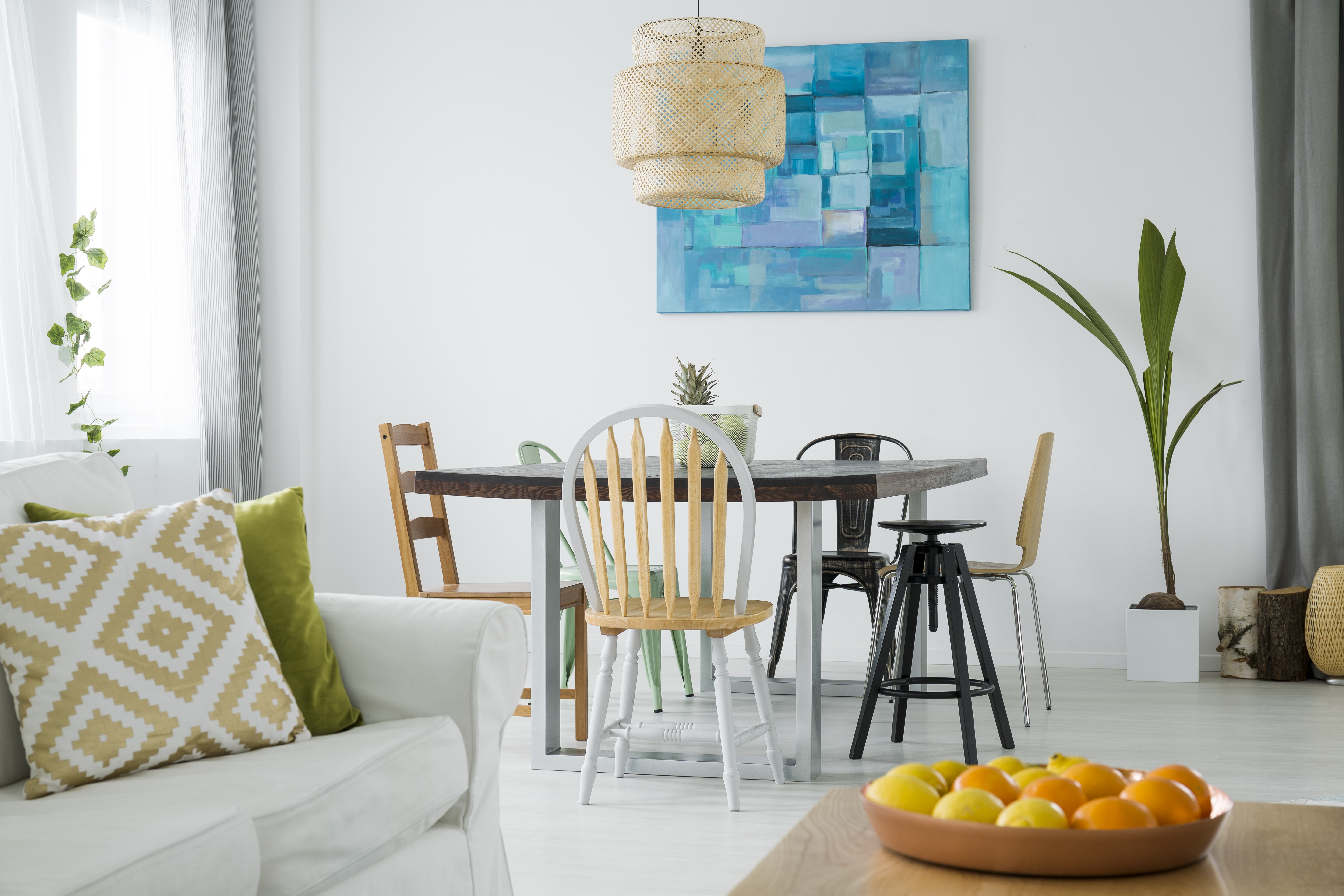 Add contrast to your neutral palette with colorful accents and by playing around with fabrics
Although painting a wall is a very simple and inexpensive way to change your home's mood, there are other approaches you can try introduce some color.
If you choose to have neutrals as your base palette, then a great, easy way to start exploring color with minimal risk, is to introduce colorful accents. A few cheerful colorful throw cushions, an accent chair, bright curtains or a colorful rug will instantly add vibrancy to your color palette. To keep it simple, limit yourself to 2 or 3 different color hues in a room.
Add oversized artwork to brighten your space
Adding an oversized piece of artwork to your wall is another very easy way to introduce color and brighten your room effortlessly. Whether you choose to have an original piece or a print; framed or unframed; hung or leaning on the wall; your space will be instantly transformed. If you do not like to have too many holes on your wall, a single oversized piece will be just enough to change a room's dynamic.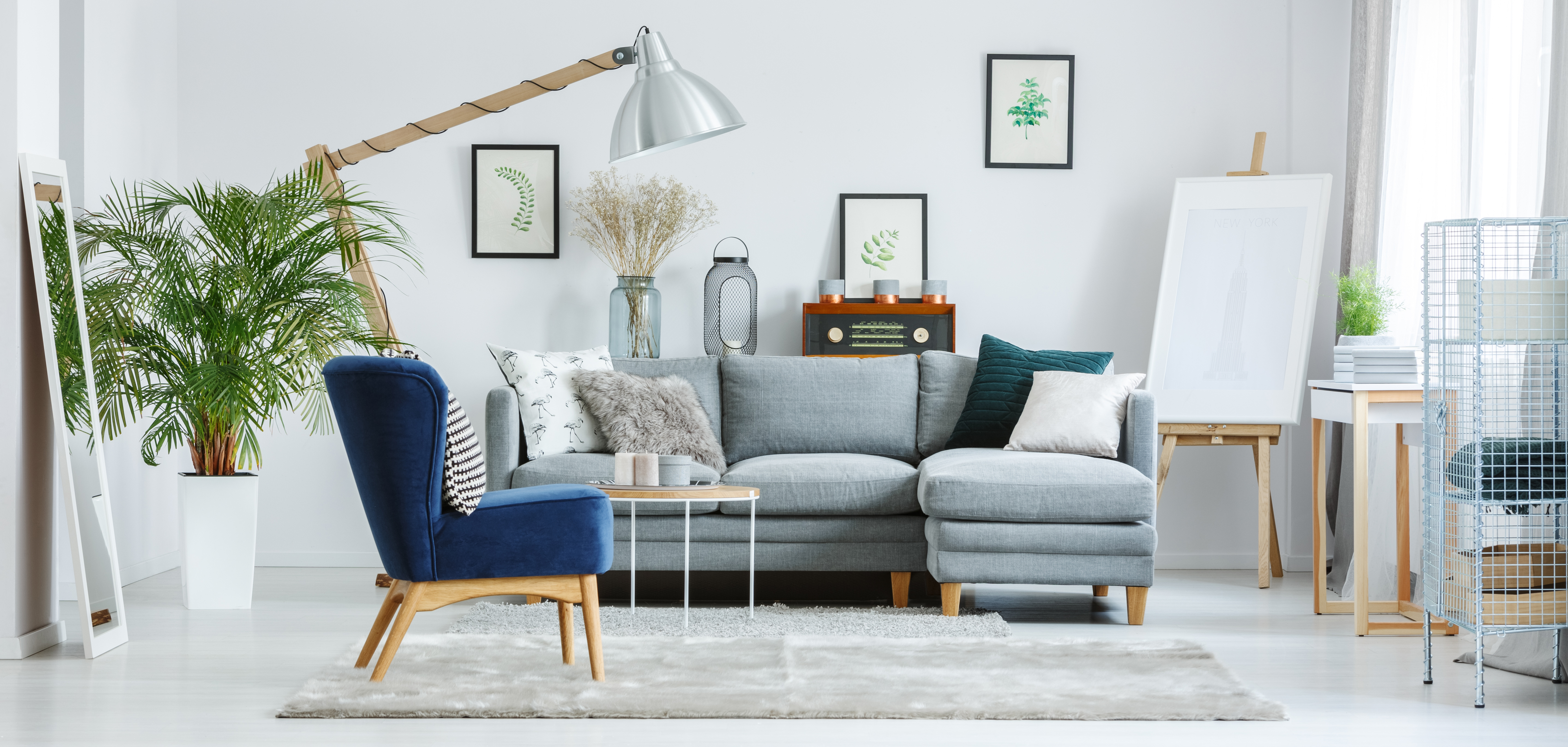 Follow the 60:30:10 rule
Lastly, the timeless 60:30:10 decorating rule can easily be followed to create a perfect color balance. For those who fear adding color to their space, use this rule as your guideline!
The 60 part of the ratio refers to the main color of the room, for example the walls and large furniture pieces. You then use the 30 color half as much as the main one. This can be your curtains, throw cushions, bed linen, and rugs. The 10 is the accent color and it is the most fun part. In a bedroom, your accent color could be in the pillows, the runner, the side lamps or even candles. Your accent color could be easily found in hanging artwork or even a color that you like in a certain fabric. Pulling out colors of a ready-made fabric is the simplest way so that you don't get into the hassle of "is it matching or not?".
So with these tips in mind, you can now expertly bring some color into your home!
Dina Samaha
Website: www.dinasamaha.com
Instagram:artistri_
facebook    /artistribydina
Architect and Interior Designer with a great passion for Art. Dina works as an interior designer; however, work never stopped her from doing what she loves and expressing her feelings through painting.
Founder of Artistri, the first art platform in Egypt that offers a customized artwork service, design tips and interior inspirations.Artistri is designed to make your selections easier and faster, and to help create an artistic homey feel.