Angelina Jolie is known for her interesting, albeit shocking, quirks and her many transformations. The main talk during the past couple of days was about her wedding dress. The dress was designed by Versace and had drawings by her six children on it. While some found it endearing, others thought it may have been a bit much. To those, we would like to show you that this was the most tame – and adorable – thing Jolie has done on a wedding. Below is an overview of all three weddings of hers.
Black Rubber Madness
Jolie married her Hackers co-star Jonny Lee Miller. The British star and Jolie were married for only 18 months. Instead of a wedding dress, Angelina wore black rubber pants and a white t-shirt. That's not too risque, right? Well, not until you know that she wrote her then hubby's name on it with her blood! 
This was well into Jolie's goth era. And it's not all bad. We have classic photo shoots of her and Miller including pictures like the one below.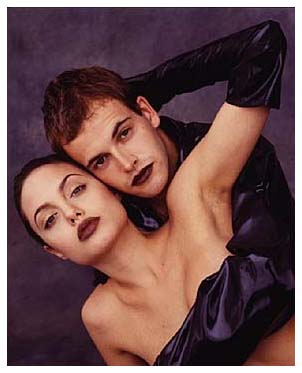 Bloody Valentine
Yes, we don't understand why anyone would marry Billy Bob Thornton, either. But Angie totally did. They tied the knot in Las Vegas – no surprises there. The couple engaged in cringe-worthy public displays of affection regularly. All that aside, the weirdest thing they did was keeping each other's blood in vials around their necks. We're not exactly squeamish but… ew!
Married with Children
And finally we've arrived at the Brangelina era. This one is far more calm and collected. Angelina at this point had changed a lot – as all people do. After a long term relationship with Brad Pitt, they finally tied the knot on August 23rd. No blood was shed during this wedding, and the only "quirk" was that her Versace gown was drawn upon by her children.