25-year old Asmaa Amr walked like an Egyptian the 200 km Sinai trail, going from St. Katherine to the gulf of Aqaba. A trail that won the BGTW Tourism award for the best new tourism project in the world. Asmaa, who works in the fashion business, says the idea wasn't related to fitness at all, clarifying that it was more about her connection with mother nature.
How did you first find out about the Sinai trail? What encouraged you to walk it?
I have always been in love with Sinai and so I pay it a lot of visits. When I first heard about the Sinai trail, they were conducting a training for the Bedouins to later become tour guides on this trail. Believing that this journey would enrich my curious soul and give me a more expansive perspective about life and art, I decided to tag along. I was especially encouraged, because we don't have many activities in Cairo. Sinai, on the contrary, is full of pleasures people don't even know about, hiking is one of them! I later contacted one of my closest friends, who is a great director, Karim Ebada so we could film it all and he was very interested.
How did you feel about being the only woman among a large number of Bedouins?
I felt completely safe, like I was part of a bigger family, everyone was taking care of one another no matter what the challenges were. The Bedouins were very kind, helpful and knowledgeable; due to the nature of their job, they get the opportunity to meet the whole world. Some of them even speak fluent languages, but can't write them, not to mention their great survival skills. I joined them in their training about wilderness first aid, GPS, and maps, which was given by professional trainers from different countries.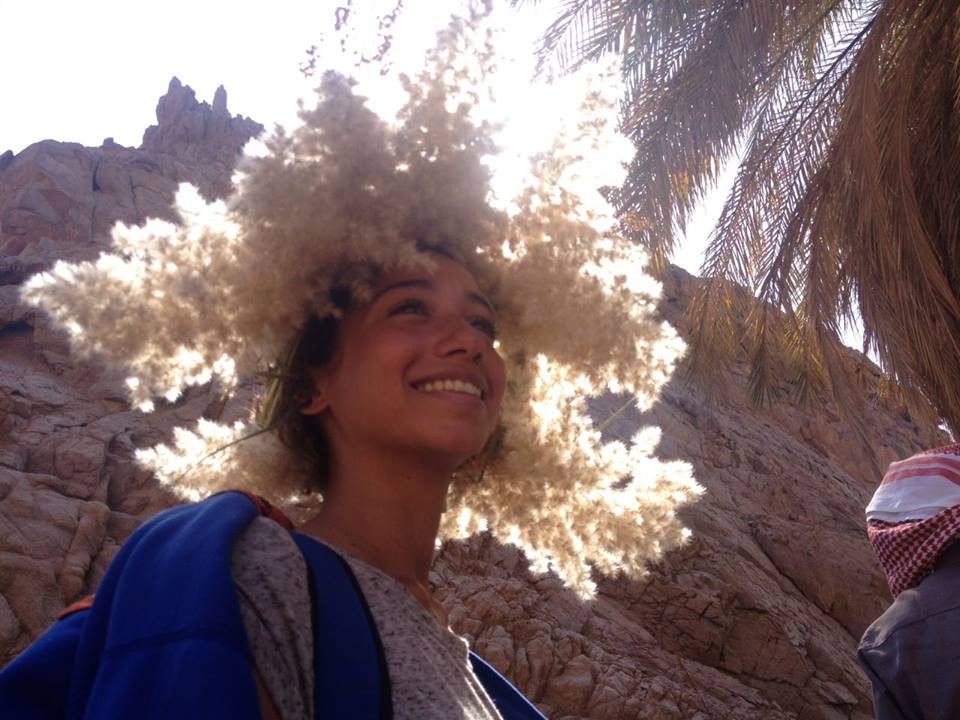 Tell us about your walk, how long did it take you to walk the Sinai Trail? And What did you see out there?
The hike took us 10 days. All along we enjoyed a primitive life style. We did everything from scratch. We were surrounded by these magical places all the time, watched the whole wide sky while gradually falling asleep in sleeping bags. We'd wake up when the sun was up, light up a fire, make breakfast from natural ingredients, then start walking. Every day we'd walk from 20 to 25 km. Each 20/30 kilos, brought us to a totally geologically-different area. I found myself asking why we have all those beautiful places that people don't know about.
How would you describe the experience?
It's very spiritual. It puts you in direct contact with nature. In those ten days, I maybe looked in the mirror once. I showered once, but I think I never felt cleaner! I also didn't have any network in my phone the whole ten days, except maybe once or twice. It was great to disconnect from this hypothetical world, and connect with myself instead. I really feel proud that I got to do this, and I encourage all the youth to go ahead!
Do you think this hike had an impact on your body, health and psychological state?
Yes of course! I connected to my body, I feel freshly new! I know that I've changed, because I've discovered myself all over again, when my body is hungry, when I am tired, happy, sad, everything! Routines don't allow you to challenge the natural things God ingrained in you.
What difficulties did you surpass on the way?
Sometimes the walking got a bit exhausting. Additionally, the weather was mostly good but at some times the sun was literally burning me and I'd been almost dehydrated.
Did you perceive Egypt differently after this adventure of yours?
Definitely. When all you do is sit around and scroll down news on your Facebook page, you'll only be emitting negative energy, neither will you be affecting or affected by your country. But, when you go out and try something new, you realize that you can leave a mark on the world one way or another. We all need to break through this hypothetical cycle we are living in, and invest our lives in the gifts God granted us. This project will not only boost Egypt's tourism but also initiate collaborations between different Bedouin tribes. This project's aim is big.