Moving around Cairo for back to back meetings; waking up at 6:00 am to prepare creative lunchboxes; and spending lunch breaks in traffic is a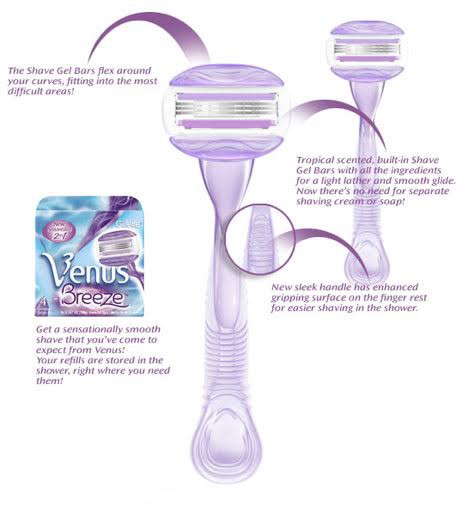 routine all power women know by heart. Amid life's insane responsibilities, we are always on the lookout for the most
effective and efficient way to achieve soft, beautiful and hair-less skin!
Gillette Venus Breeze has taken it upon itself to put all our worries aside! The No. 1 female shaving brand in the world is well aware of the complex lives we lead and has designed this product specifically to meet our needs, no matter what circumstances we find ourselves in…
Running Late to an Important Meeting: Only 10 minutes to go before you have to leave to go to an important meeting, but you still aren't ready? We've all been there. That's why we need Gillette Venus Breeze in our lives. No need to worry about prepping, just jump in the shower and get a great shave with one easy stroke!
Roaming the Streets in Freezing Weather: As we all know, Cairo's cold winds have a devastating impact on our skin, leaving it dry and sensitive, making Gillette Venus Breeze the ultimate choice this winter. By replenishing the moisture in your skin when you shave, dry legs will be no more! For the perfect result, make sure to use warm water as hot water can strip your skin of natural oils making it even drier than before.
Feeling Fabulous this Holiday Season: With Christmas and New Year's on the horizon, there are parties aplenty, from sophisticated soirées to casual office gatherings. Whatever the party, whatever the outfit, Gillette Venus Breeze will have your legs looking perfect leaving you to focus on enjoying the festive cheer.
Preparing for an unexpected date: Nothing is worse than feeling and looking unprepared for a date, so what do you do when a cute guy asks you out to dinner or coffee that day?! With the stubble starting to show but no time to unleash the full at-home beauty routine, in just minutes Gillette Venus Breeze razor will have you feeling confident, beautiful and ready to wow your date.
Giving yourself that Spa Feeling: In the busy world of Cairo, with little time to pamper yourself, your skin can really suffer, leaving you feeling dull and drab. Even making the time to properly exfoliate becomes a hassle! Well Gillette has the solution; shaving with the Venus Breeze Razor is the perfect way of removing excess dry skin in a quick and easy way, leaving your skin smooth, healthy and looking like you've just returned from a 5* pamper session.
No matter what your hectic lifestyle throws at you, Gillette Venus Breeze is the answer! With soft, hair-less skin making you feel confident and beautiful, Gillette Venus Breeze with have you ready to take on the world.