We were very lucky to be among the attendees of Ikea's 'Let's Play' workshop where we've met with the amazing Child Psychologist/Parent Coach Dr. Amina Diab who gave us a super interesting seminar on the benefits of playtime. We learned that playtime is the main pillar for positive discipline, brain development, creativity and everything in between!  After shopping at the fantastic kids section at Ikea followed by tasty Swedish delights at their restaurant, we sat down with Dr. Amina to discuss how to enhance your child's positive behavior during playtime, do's & don'ts and boys toys…Literally!
Can you list 3 benefits of playtime?
The first benefit is cognition, which is important because a child starts to get familiar with different objects and characters. Second benefit is the emotional element as a child learns to get connected with his emotions through excitement and compassion. Third benefit is practicing language through forming dialogues and creating characters. Last but not least, the social benefit in which a child learns to connect with their friends during a certain game.
Some mothers really panic when their son prefers playing with a doll instead of a male designed toy, do you have any advice on how to react positively?
First of all, don't panic and be calm about it. Every toy has its benefits, for instance, girls' toys are under the category of 'Dramatic Play' which provide imagination and enhance language and social and communication skills like the Doll Kitchen…etc. Boys' toys enhance constructive skills like Lego and Tower Blocks. All kinds of toys benefit the child's brain development skills and mental health. Don't be angry about it or make him think that he has done something wrong, if you are really uncomfortable about his toy choices, try putting other options his way.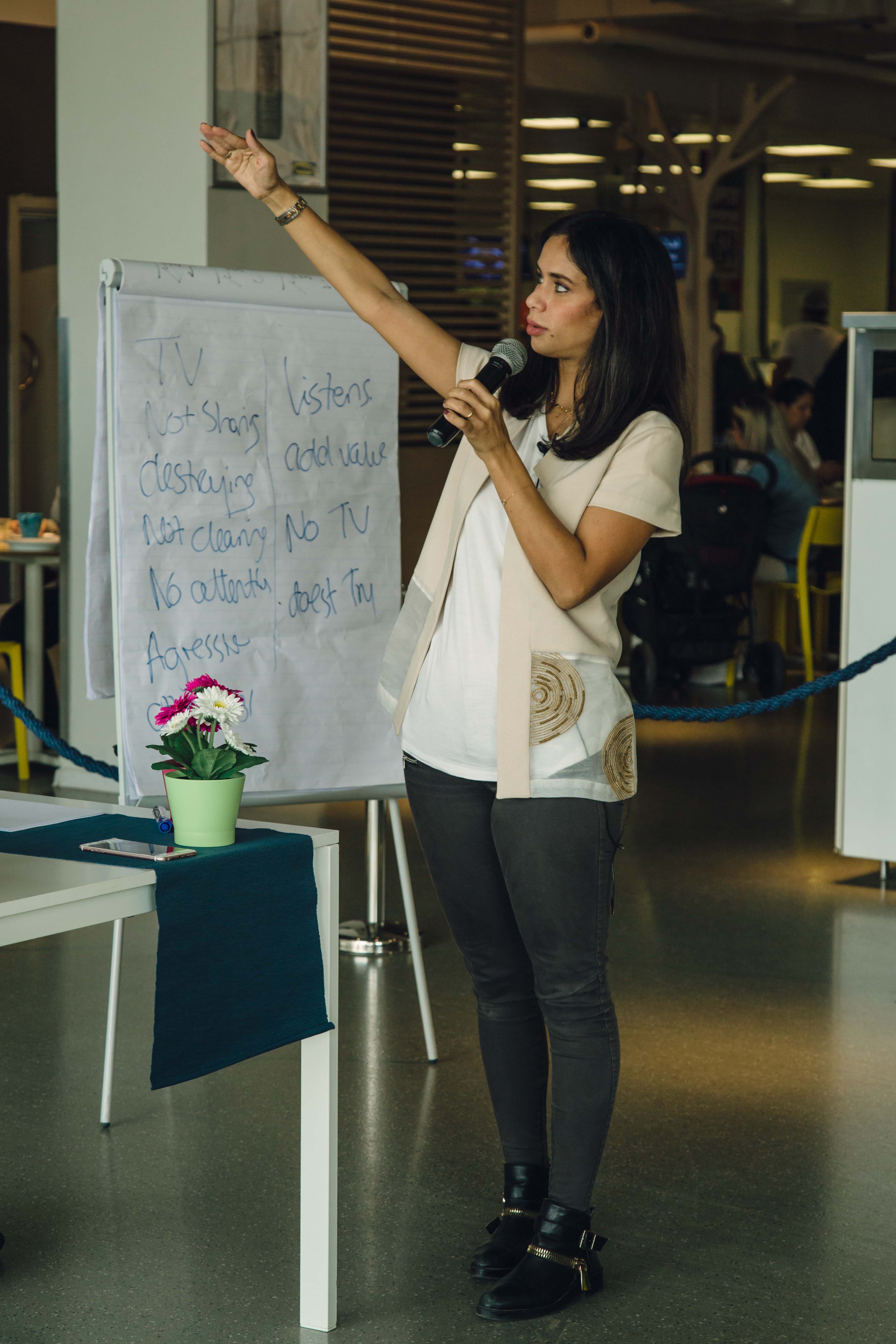 Some parents tell their sons 'whoever hits you hit them back', In your opinion, what is the right and non violent thing to do if your son gets hit or bullied by his friends during playtime?
I am totally against pushing your child to use violence to defend himself. He'll grow up thinking that violence is the key to getting out of any uncomfortable situation. He'll destroy his marriage and his career. Growing up, he'll learn to bottle up his feelings and will start to become violent as he learned that he shouldn't cry or show emotions and he should hit his friends instead.
TV versus toys for entertainment, what is the effect of each on your child's mental health?
Playtime without technology involved is always a great idea. Researchers have discovered that children who aren't used to watching TV on a regular basis speak faster than children who get used to more screen time.  Some even advise that it's better not to allow TV at all in the first two years and use toys for entertainment instead. Also children who don't watch too much TV have great imagination skills, for example research has found that they can draw better pictures than children who watch too much TV.
The new IKEA Good Cause campaign, Let's Play for Change, focuses on children's right to play and develop, highlighting the benefits of play for all children. For every children's book and toy sold during the campaign period, the IKEA Foundation will make a donation of € 1 to projects in some of the poorest communities in the world, supporting children's development and learning, equal participation, sports and of course – play. The IKEA Foundation has partnered with some of the most prominent NGOs on this topic: Handicap International, Room to Read, Save the Children, Special Olympics, UNICEF, and War Child. The partner programs funded by the campaign will focus on creating safe spaces for vulnerable children to play and develop.