A new era just began with Cairo Governorate's launching of the "Efeslha" project last Saturday. This garbage-recycling project started with two kiosks in Misr El-Gedida, urging people in the neighborhood and all over Cairo to separate their recyclable materials and bring them to the kiosk in exchange for money. Weighed by kilo, cans are for 9LE, plastic for 3LE, glass for 20LE, cardboard for 1LE, and paper for 80 piastres.
This approach, originally led by two female members of parliament, introduces the culture of separating garbage and reinforces the idea of recycling in Egypt. While it isn't the first, this initiative is amongst the most effective attempts to bring forward the recycling concept. "Some people still don't fully understand the process, they'd come to us the first time with mixed waste and so we'd help them out with it but the next time they'd come with separate bags of plastic, glass, paper…etc.," says Ibrahim Hassan, a worker at the Aswan Street Kiosk.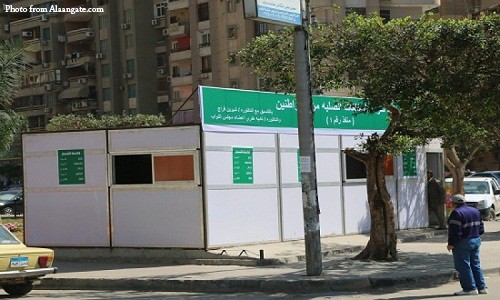 Residents in the cozy neighborhood of Heliopolis have been fairly enthusiastic and responsive to the project. Photos of the two newly-opened kiosks have been circulating the internet with the public excited that the country is finally taking this one step forward, even if it comes a little bit late. "Housewives come to us on daily basis along with kids who bring us their school notebooks from previous years. Additionally, stores give us their old print advertisements, vouchers, and plastic boxes," Ibrahim adds.
"Gradually we learnt how to apply the separation technique in our own houses. I taught my sisters to do so as well. First, they were like 'no we just throw everything away' but then they realized that it is profitable. If for instance you get 5LE in exchange for your garbage, by the end of the month you'll have the money to pay the electricity bill," Ahmed Kandil, another worker argues.
Usually garbage collectors will pick items that they can sell from peoples' waste and then dump the rest in the streets, turning some neighborhoods into one huge trash can. The "Efeslha" initiative however, plans to integrate garbage collectors into the recycling process. "Some of them come and sell us what they've collected when they find that the prices are rather rewarding," he adds.
The profit doesn't just bring residents money but rather cleaner streets, fresher air and a better life. "It consequently helps employ a lot of people, there is a plan to open more kiosks in several areas, and each kiosk hires 4 workers," Ibrahim tells.
"If we all work according to the set-out system, our country will be garbage-free," he optimistically concludes.
Be part of the change and visit their two venues in Aswan Street and Ibn Sandar Square from 9:00AM to 5:00PM!