With elegance and grace emanating from her every pose, 30 year old ballet dancer and assistant ballet teacher Engy El Shazly has a very different story to most ballerinas. Not only did she start learning ballet when she was 27 years old, she is also the first ballet dancer in Egypt to be veiled. In just three years of dancing, Engy has been pushing age-old boundaries and paving the way for other women, veiled or otherwise to follow their dreams.
Engy's dreams of becoming a ballet dancer started at 11, an age when many of us are far too young to know what we want out of life; however from this age she was told that she had already missed her chance. "The people around me told me that I would have had to have started learning when I was three or four, 11 is too old to start learning. So instead I learnt synchronisation, doing that until I was 14". Believing that her hopes of being a ballet dancer were long past, Engy decided instead to focus on her studies and work.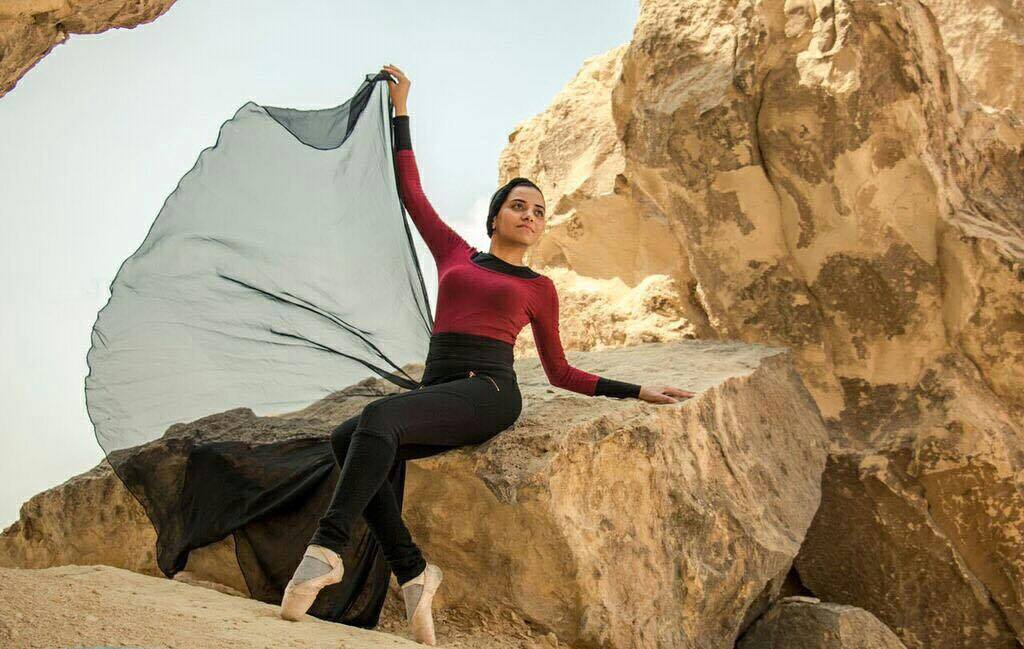 However, the desire to learn ballet still bubbled under the surface, so when an opportunity arose, Engy pirouetted full speed towards it, "When I was 27 I found an Academy that was advertising on Facebook for ballet classes for adults aged 18 to 45, so I called them and told them I wanted to join". But age was not the only thing that Engy was worried would prevent her from pursuing dancing, "I also told them that I wear a hijab, but they told me that that was fine, they were running women's-only classes that I could join!" Engy adds.
From the very first class, Engy was hooked, "What I love about ballet is that it is an art. When I am practising I feel like I am living in another world, in another planet", she reveals. Even after the first few classes, Engy did not imagine herself actually performing. "For the first year, my teacher was the first dancer of Cairo Opera House, but when she stopped giving classes for adult beginners, I joined another academy. At that time I wasn't thinking of performing on stage because I thought the hijab would prevent me", Engy tells us. However her new teacher had other ideas. According to Engy, "She told me I can definitely go on stage in a hijab as normal. And so I performed twice on their big stage. I wore the same dress as the rest of my team, but just with long sleeves and a hijab".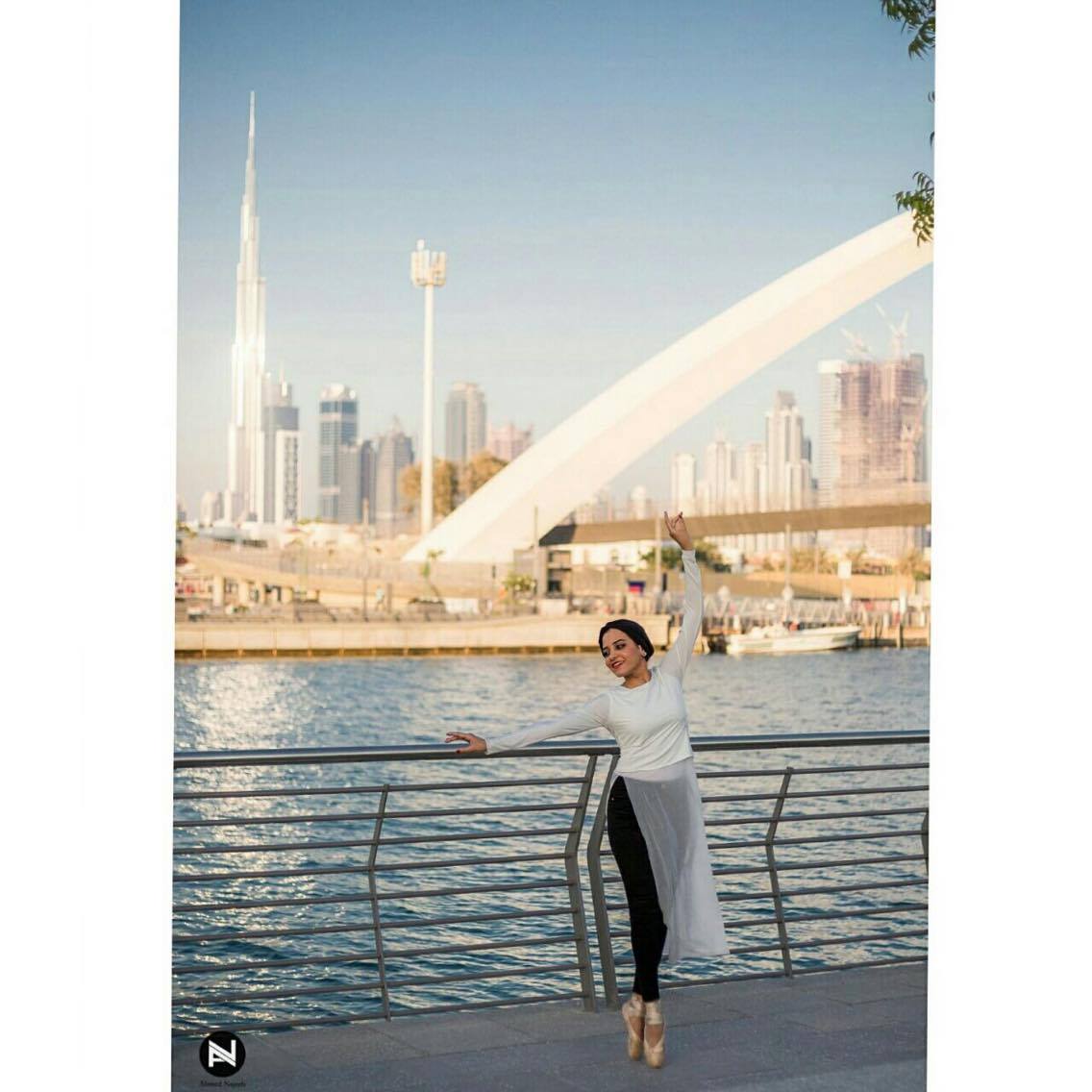 Her aspirations were not fulfilled by this alone however, and with every year, Engy chassés towards being the international dancer that she has always wanted to be. "Now I am an assistant teacher to the First Dancer of Cairo Opera House. And one day I want to perform in the Opera house in Paris. I want to dance and be known internationally". Engy is definitely willing to put in the work to get there, "I only have two hours of training a week, so I have to practise at home myself every day. For a beginner who started at this age, I am one of the best because I work on myself every single day!" Engy passionately explains.
Although she gets a lot of negative comments on social media from people that don't think Hijabi women should be ballet dancers, Engy proudly tells us, "I don't care. I have a lot of support from my family and friends". And step by step, Engy believes that people like her are beginning to change perceptions towards Hijabi women, "People think that Hijabi girls are restricted, they are not open-minded, they are not able to do sports. But our message is that we are normal people doing things that we love, we can do whatever we want. Just covering your hair is not an obstacle to achieving your dreams and changing the world". In fact, Engy now uses the fact that she is Hijabi to her advantage, "It can be difficult sometimes when it is warm, but I have found that wearing a hijab puts me in a position where I am somehow unique because what I am doing is unusual", she explains.
Engy makes clear that it is not only Hijabi women that she hopes to inspire, she elaborates, "I want people to understand that age is just a number, you can achieve your dreams if you really want to achieve them. Being a woman of my age learning ballet was not easy as it takes a lot of years to build muscles and improve flexibility. But in the last three years, I have improved a lot. That's why I want to tell people, go work on your dreams no matter what your age".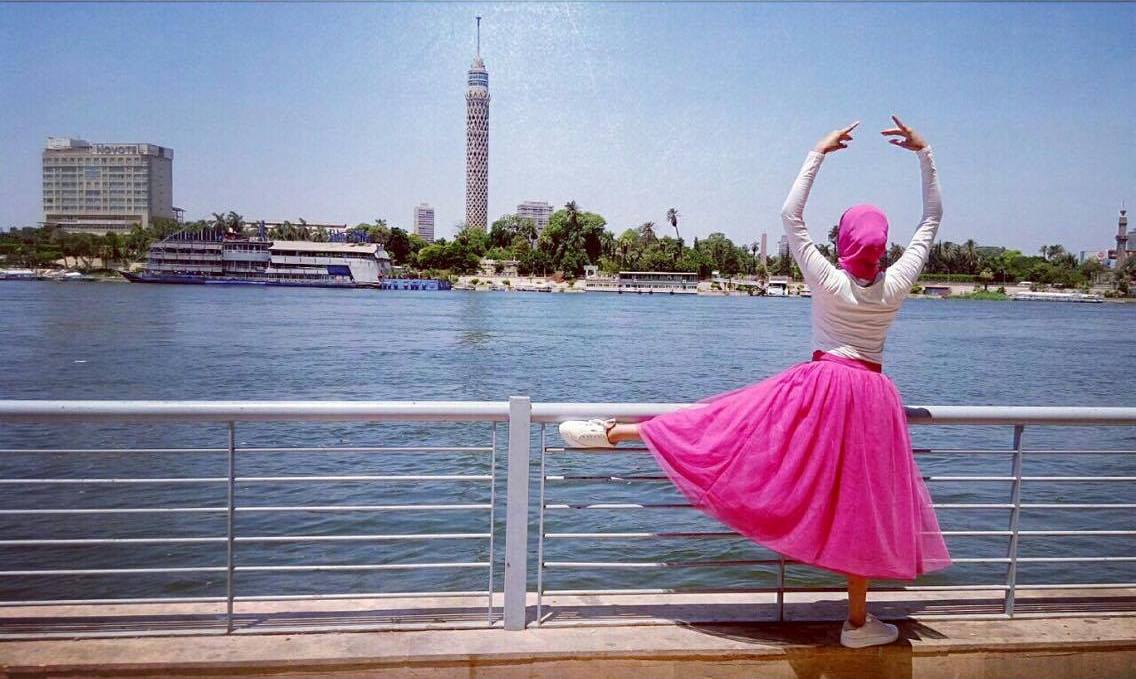 See more from Engy by following her on Instagram at @engyelshazlyy