We Egyptians love our food fried, but did we stop to think about how many homes are left with oil waste at the end of each day and how these homes actually get rid of that waste? "Egypt pays around 2.2 billion pounds to treat waste water from fatty acids and to fix pipe blockages," says Ahmed Raafat Co-Founder of Green pan initiative. We had a chat with this bright mind who told us all about the alternative.
What was once a graduation project, has become a reality. A machine to convert oil waste into Biodeisel was Co-founder Nour ElAssal's graduation project. Now Green pan is an initiative that turns your waste into energy, raising the question; What if you can enjoy your fried food, get rid of the waste, save the environment and even receive giveaways in return without needing to step outside your door?

Powered by Tajadod company, Green pan came into the light in 2014 raising awareness about how oil waste could be used as a lubricant or as an alternative for diesel fuel.  "At first, we targeted restaurants and businesses, but we always had in mind that someday we were going to work with homes. Eventually we started talking to housewives about how they can work with us," Cofounder Ahmed Rafaat tells.
"The process is extremely simple, all you have to do is call us and we'll come to you, give you a big plastic bottle and a filter where you can put the oil. And in exchange for 5 liters you will get a bottle of dishwashing soup as a gift," he adds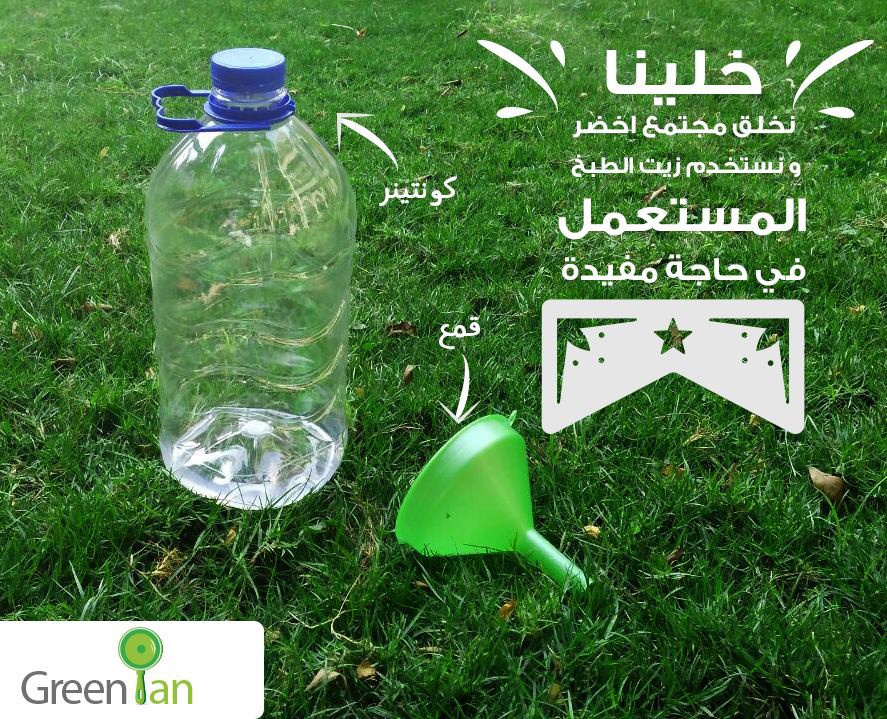 With an offer this tempting, women who found out about it gradually started responding to the Green initiative. "I learned about Green Pan through a friend, I used to see my mom throw oil waste in the sink so the idea of recycling it amazed me," says Raghda ElShimy, a member of the service. "When you become a member, they follow up with you and call you every two weeks or month. It is a very simple process once you get to try it," she adds.
Today Green Pan has 5000 registered users, and is continuously testing how to upgrade the service. "We go to any place in Cairo with a minimum amount of 5 liters for pickup but for places in New Cairo it is 10 liters," Ahmed clarifies. "We are gradually expanding, we have a team for the call center, another for Oil waste collection and a third for Facebook Management," he adds.
With Ramadan knocking our doors, it is peak season for oil waste. So, join the movement, recycle your waste, produce energy and claim your pan green!
Watch the video here to learn more.
Visit Green Pan's Facebook page here or call them on 01002358907 / 01129996848