Ramadan is a month for amazing food, which means a lot of us end up spending a lot of time in the kitchen. Which is great if you are a professional chef or a naturally-talented cook, but for the rest of us it can be pretty stressful having to prepare tasty food for big groups of people. So to help you out, we have put together some easy but delicious recipes that promise to wow your family and friends!
Appetizers
Yummilicious Chicken Lollipops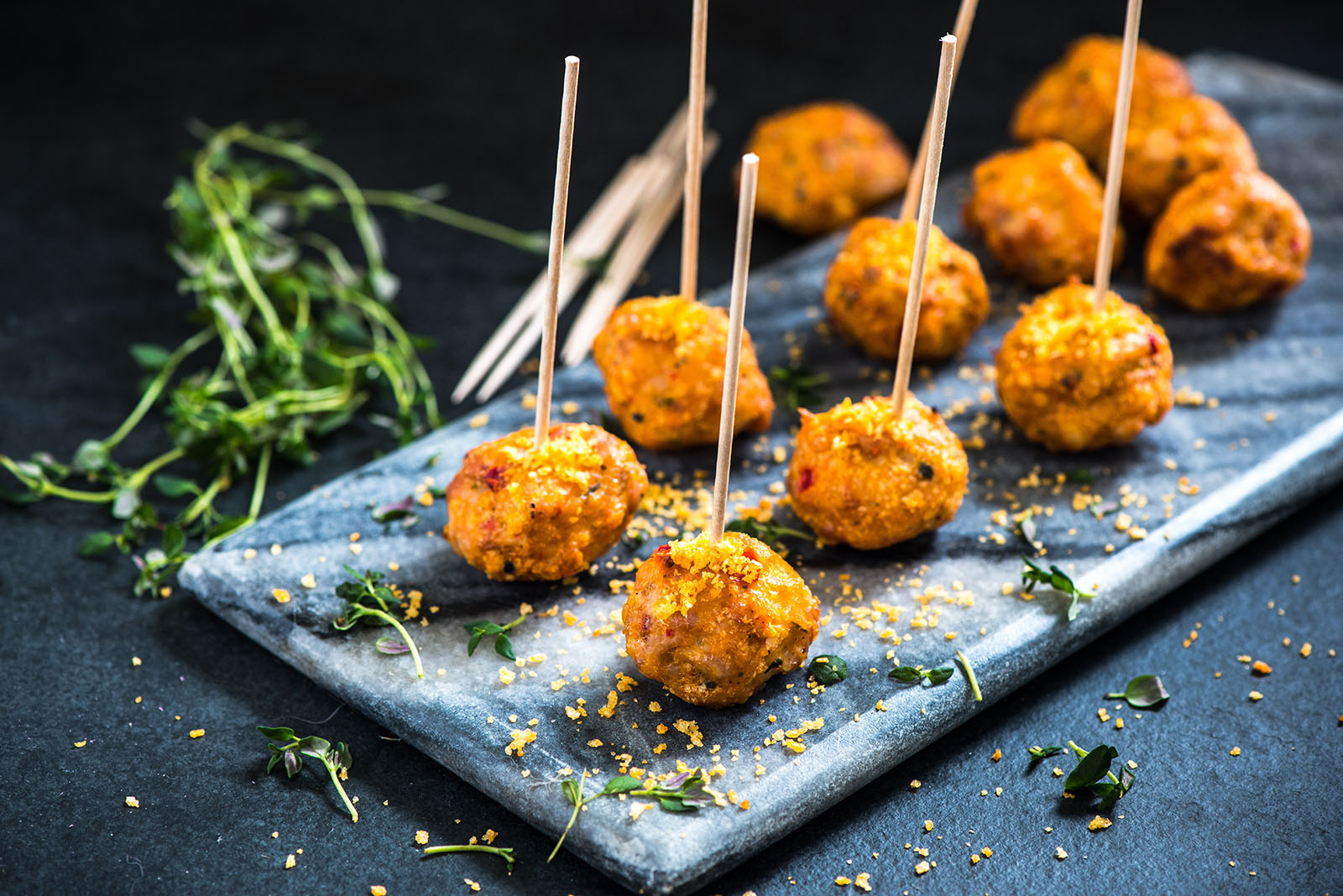 Ingredients:
500g boneless minced chicken
1 grated onion
2 cups of crushed breadcrumbs
1 egg
Green Coriander
3 tsp cumin
Wooden Sticks
Serves: 4
Prep Time: 20 mins
Cooking Time: 7 mins
Method:
-Mix the minced chicken with grated onions, coriander, cumin and an egg.
-Knead the ingredients with hands. Shape the dough in the form of balls and cover it with breadcrumbs.
-Leave it in the fridge for 10 minutes.
-Fry it in olive oil until browned and crispy. Stick in wooden sticks and serve.
Crispy Kobeiba with Tangy Pomegranate and Chili Dip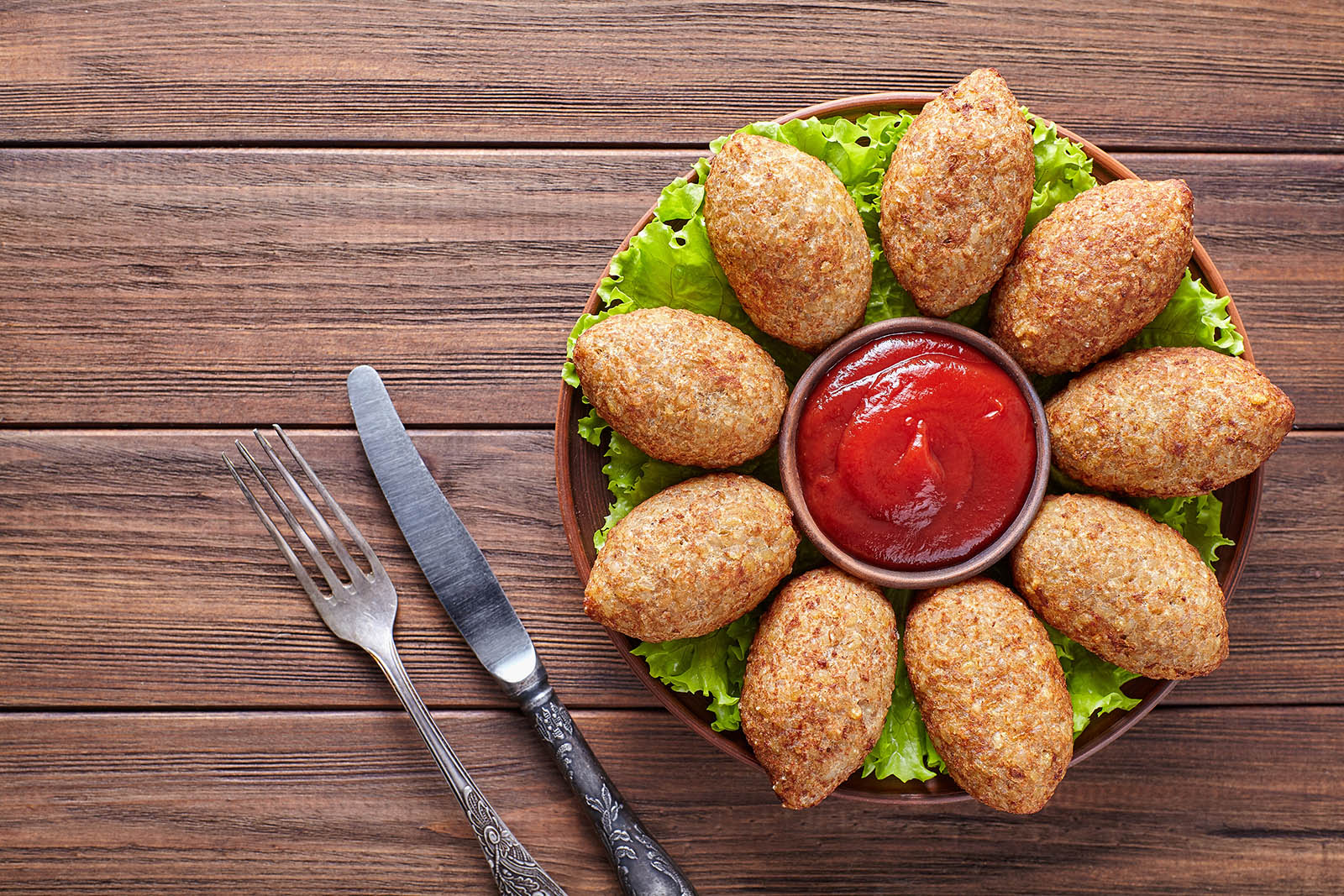 Ingredients:
900g finely ground beef or lamb
400g bulghur cracked wheat
1 tsp allspice
1/4 tsp cumin
2 medium onions, finely chopped
1/2 cup toasted pine nuts (optional) 2 tbsp olive oil
For the dip:
4 tbsp olive oil
4 tbsp pomegranate juice
2 tsp chili paste
Serves: 12
Prep Time: 40mins
Cooking Time: 10mins
Method:
-Soak the wheat for 30 minutes in cold water. Remove and drain. Combine with 450g meat, one onion, salt and pepper. Place in food processor until dough-like consistency.
-In a medium frying pan, sauté the other onion. Add pine nuts if desired. Add ground meat, allspice, salt, pepper, and cumin. Once meat is light brown, remove from heat. Take an egg sized amount of shell mixture and form into a ball. With your finger, poke a hole in the ball. Add filling and pinch the top to seal the ball.
-Fry on stove top or in deep fryer for about 10 minutes or until golden brown. Drain on paper towels. Makes 25 medium sized kobeiba balls. For a dip that will add a spicy, tangy kick to your Kobeiba, whisk together the oil with the chili paste and pomegranate juice.
Main Course
Must-eat meatballs with tortillas taco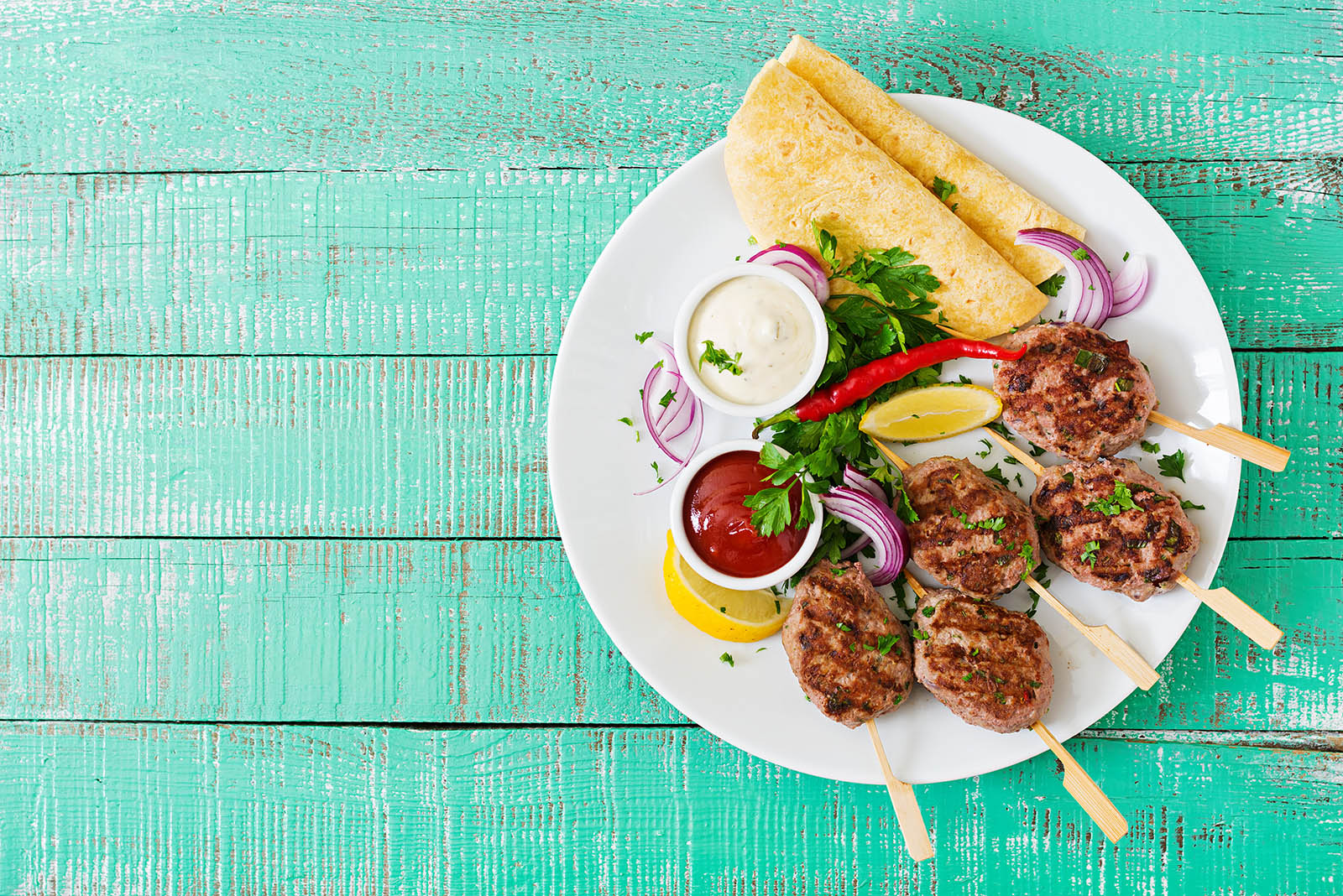 Ingredients:
1 onion
2 garlic cloves
1 bunch parsley
500g minced beef
250g minced lamb
1tsp coriander powder
1tsp cumin
1tsp cayenne pepper
1tsp ginger powder
1tsp cinnamon
Tortillas tacos
Serves: 4
Prep Time: 40 mins
Cooking Time: 10-15 mins
Method:
-Soak 10 wooden skewers in water for 1 hour, Lightly oil the grates of a gas grill and preheat it to medium high for about 20 minutes.
-Chop the onion, garlic, and parsley in a food processor. Add the beef and lamb. Run the processor until all is mixed. Remove the meat mixture from the food processor and place in a bowl. Add the coriander, cumin, ginger, cinnamon and cayenne pepper and massage into meat.
-Take a portion of the meat mixture and mold it on a wooden skewer. Lay the skewered kofta kebabs on a tray. Place the kofta kebabs on the oiled heated gas grill.
-Grill on medium-high heat for 4 minutes on one side, turn over and grill for another 4 minutes.
Family's Favorite Macarona Bechamel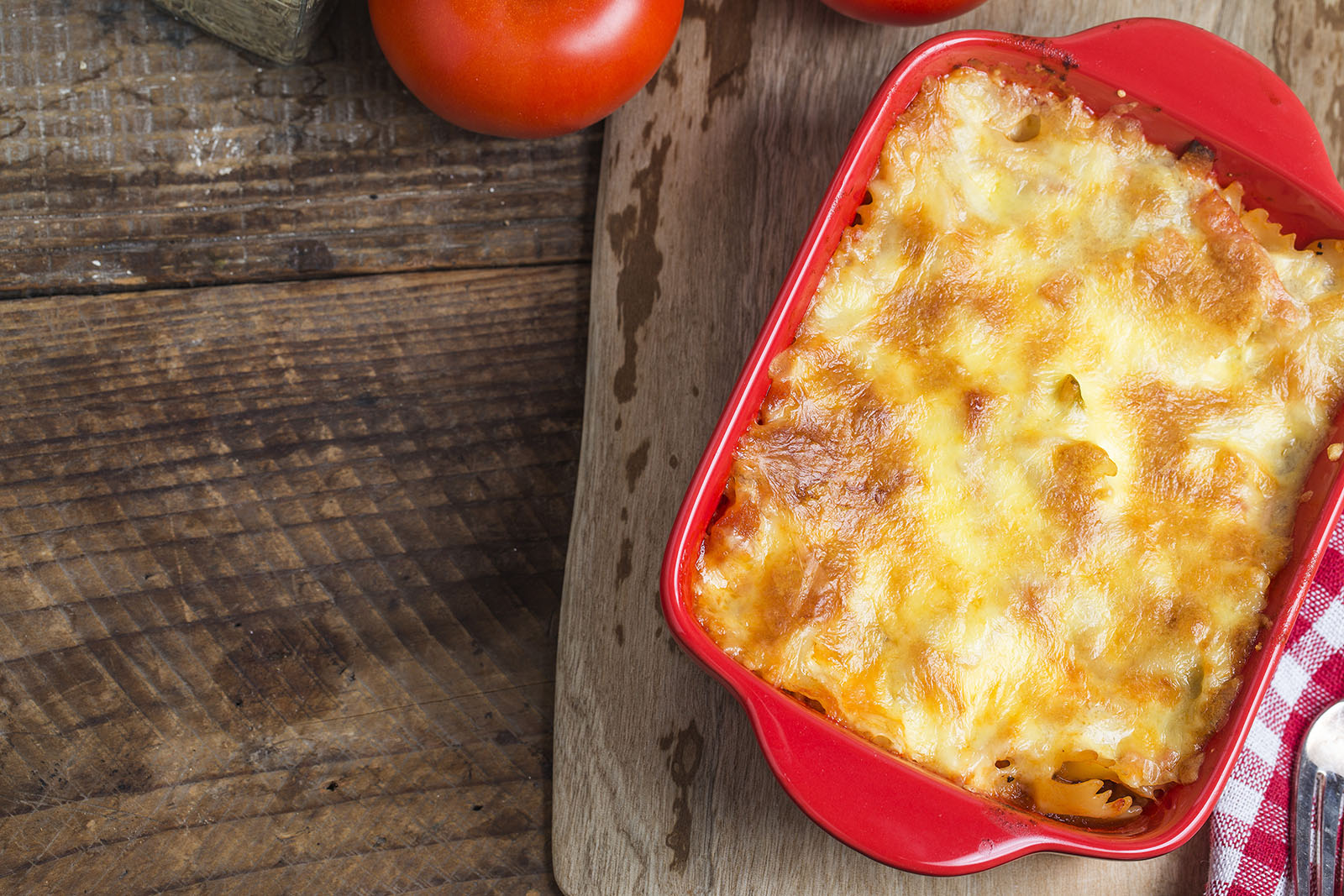 Ingredients:
500g penne pasta
900g ground beef
1 medium onion, chopped
2 garlic cloves, chopped
2 tbsp chopped fresh parsley
1 tbsp fresh thyme
1 tsp cinnamon
1 can tomato sauce
1 beaten egg
For the Béchamel Sauce:
8 cups cold milk
6 tbsp butter
6 tbsp flour
1 tsp fresh thyme
1/2 tsp nutmeg (optional)
2 beaten eggs
Serves: 5
Prep Time: 20mins
Cooking Time: 45mins
Method:
-Cook the pasta. Sauté the onion and garlic until soft. Add the ground beef and brown. Then add parsley, thyme, and cinnamon and combine. Stir in the tomato sauce and simmer for 10 minutes. Remove from the heat . Once it has cooled, stir in the beaten egg.
-Melt the butter and whisk in flour until smooth. Now whisk in the milk slowly until it almost boiling. Quickly whisk in the beaten egg.
-Mix half the bachamel mixture into the pasta. Put half the pasta covered with the sauce into a baking dish. Now layer the entire meat mixture over the pasta.
-Now add the rest of the Pasta to form the top layer. Finally, pour and spread the remaining bechamel sauce over the top of the last layer.
-Bake it in the oven at 200 degrees for 45-60 min or until the top is golden brown.
Desserts
Chocolate Brownie Basbousa
Ingredients:
1/2 cup melted butter
1 cup sugar
1 cup plain yogurt
2 cups semolina
1/3 cup milk
1 tsp baking powder
1/4 cup shaved almonds
1/2 cup cocoa powder
For the Chocolate Cinnamon Syrup:
1 1/2 cup sugar
1 3/4 cup water
1 short cinnamon stick
50g dark chocolate, melted
Serves: 8
Prep Time: 15mins
Cooking Time: 45mins
Method:
-In a large mixing bowl, combine together the sugar and yogurt. Next add the semolina, cocoa powder, baking powder, milk and melted butter. Pour the mix into a large baking dish. Bake in the 180 degrees oven for 40-45mins.
-For the syrup, in a small saucepan, mix together the sugar, water and cinnamon. Bring to boil on high heat, stirring until sugar dissolves. Lower heat and cook for a few minutes until the syrup thickens, then stir in the chocolate pieces until melted. Top tip: make sure the syrup has thickened before adding the chocolate otherwise the mixture with separate. -Remove from heat, let cool completely, then remove the cinnamon stick.
-Pour the cool syrup on the hot basbousa so that it is largely absorbed into the cake.
-Top with shaved almonds and then serve.
Refreshment dose Blueberry-Strawberry Smoothie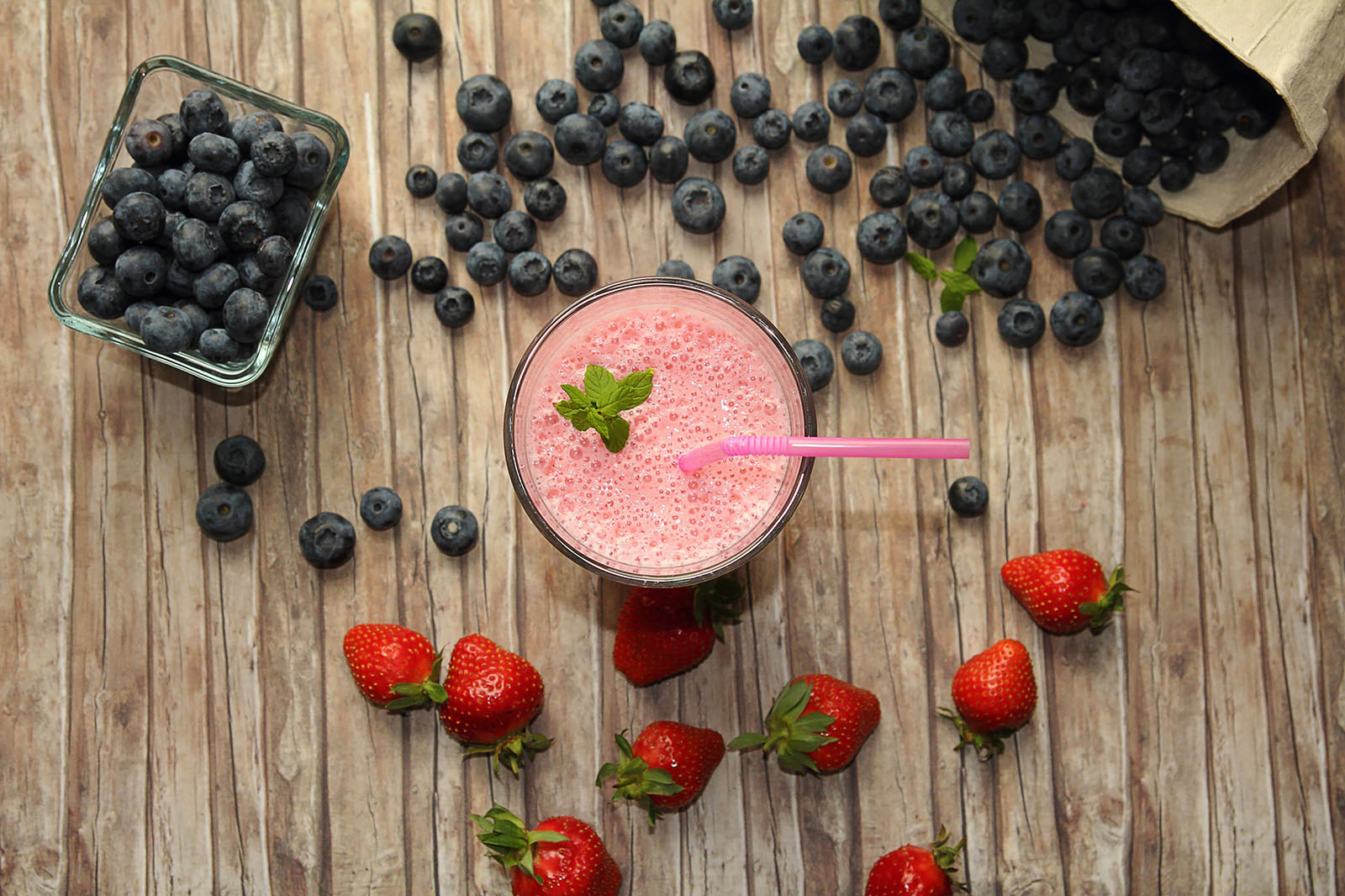 Ingredients:
½ cup milk
1 cup vanilla yoghurt
1 cup fresh blueberries
1/2 cup fresh strawberries
Serves: 1
Prep Time: 10mins
Method:
-In a blender, blend all ingredients on high speed until smooth.
-Cool the mixture for10 to 15 minutes in the fridge.
-Serve and enjoy!
Sohour
Beautifully-balanced Blueberry Parfait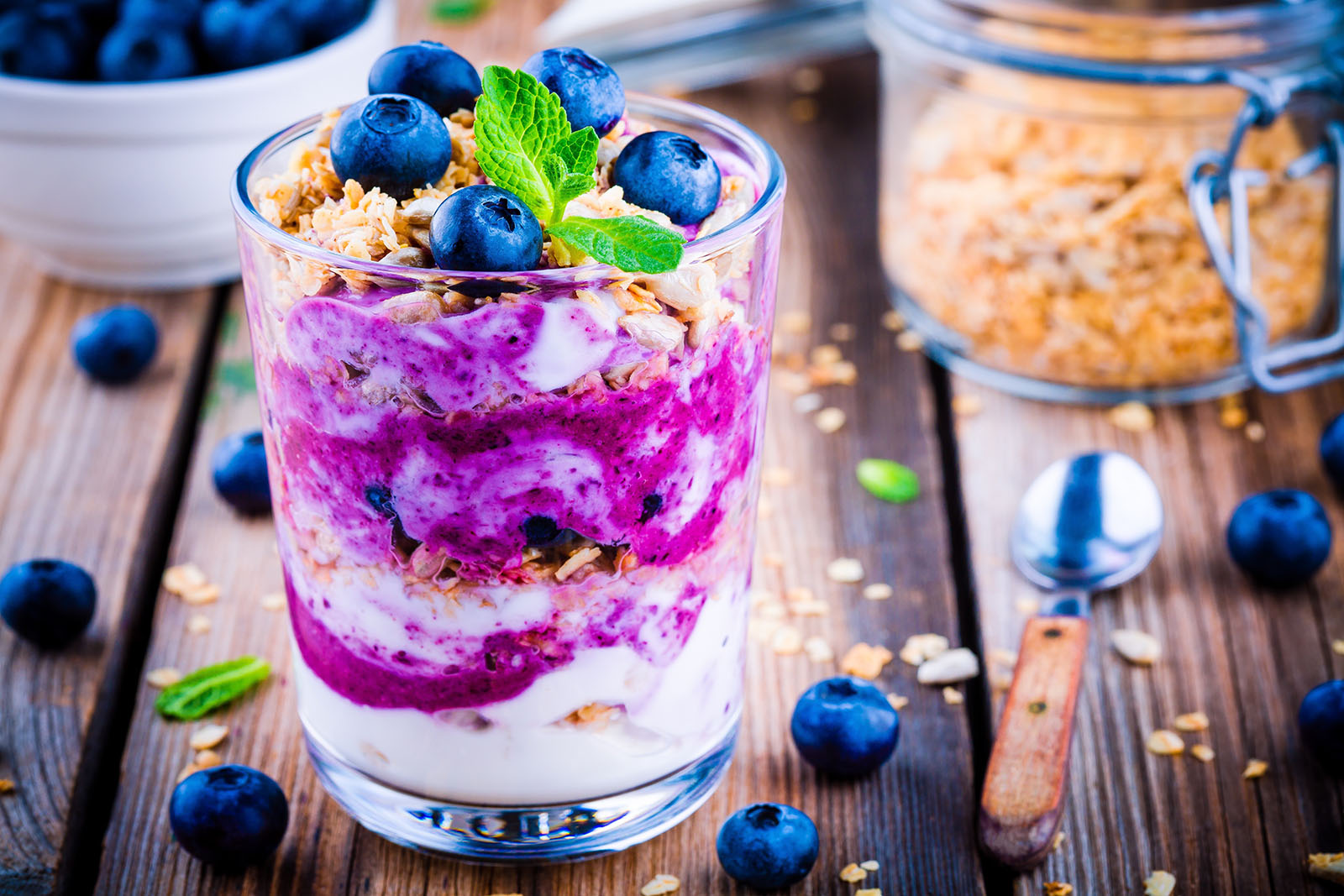 Ingredients:
2 cups blueberries
¼ cup sugar
1 lemon
2 cups yogurt
1 sprig mint
50g granola
Extra Blueberries for topping
Serves: 4
Prep Time: 15mins
Method:
-Place the two cups of blueberries with the sugar and lemon and put into the food processor on a low setting until a lumpy mix.
-Get four glass cups, in each cup put 2tbsp of yogurt followed by 2tbsp of the blueberry mix followed by 2tsbp of granola. Then repeat this until each glass is full.
-Top the granola with fresh blueberries and a sprig of mint.
Top Tip: Mix it up throughout Ramadan by replacing the blueberries with other fruit such as kiwi or raspberry.
Tasty Tameya with a Twist Method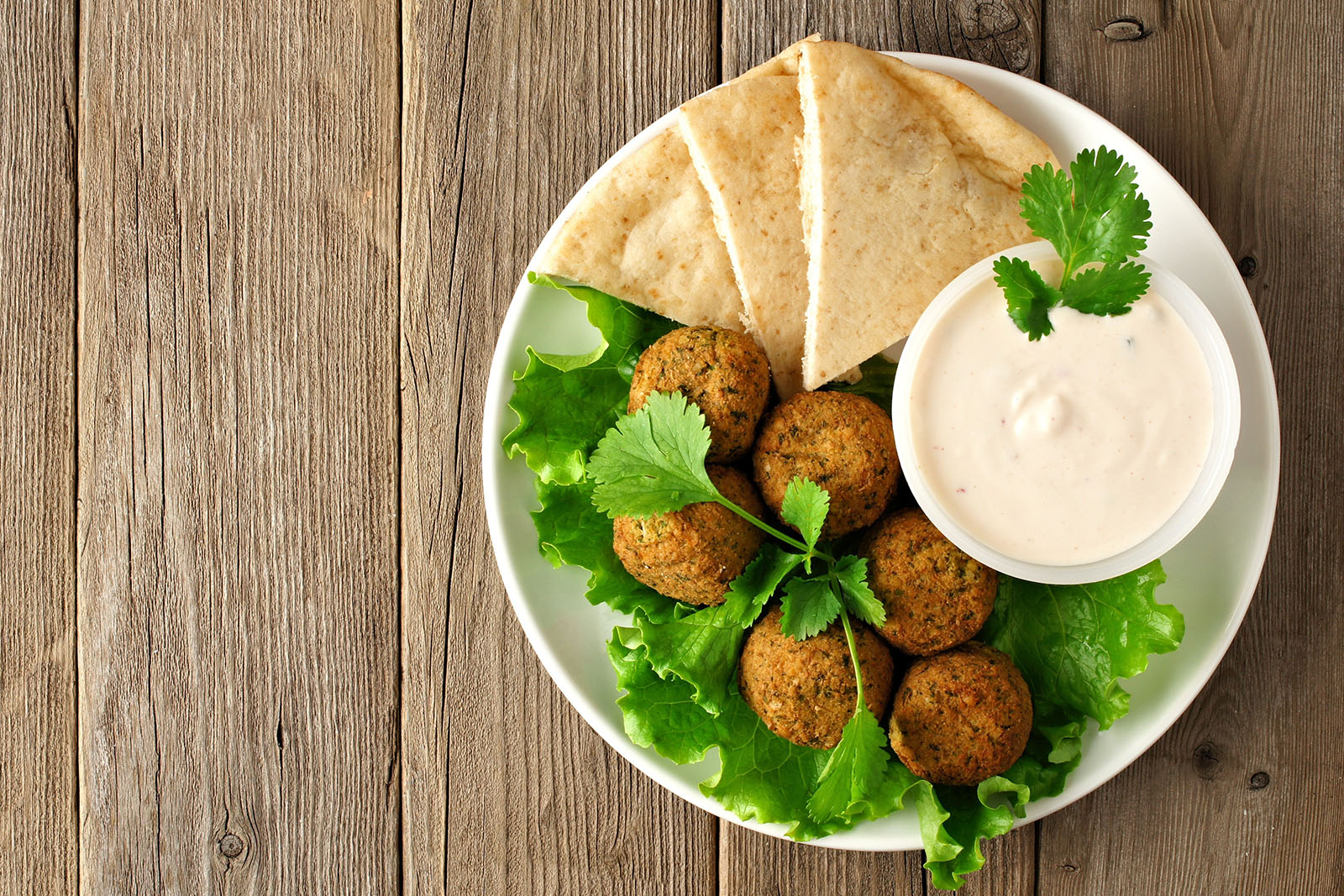 Ingredients:
400g dried and peeled fava beans
1 large onion
3-4 cloves garlic
1 bunch fresh parsley
1 bunch fresh coriander
1 tbsp. cornstarch
1.5 tsp. baking soda
1 tsp. ground coriander
½ tsp. ground cumin
2 tsp. fine salt
2tbsp. Sesame seeds
1 green chili, sliced
150g mozzarella, sliced
Serves:6
Prep Time: 20mins (plus soaking time)
Cooking Time:10mins
Method:
-Soak the fava beans in water overnight. Then rinse. In a food processor combine the onion, garlic, parsley, fresh coriander, cornstarch, 1.5 tsp. baking soda, ground coriander, ground cumin and salt. For the exciting twist add the mozzarella slices and the chili to give your Tameya a deliciously different flavor and texture. Process until everything is quite finely chopped and well mixed.
-Add the well drained fava beans to the food processor, until a rough, uniform but coarse paste is formed. Roll paste into balls, and press down into discs for traditional Tameya shape. Sprinkle on some sesame seeds.
-Heat up oil pan until hot. Gently place the Tameya into the oil and fry for a couple of minutes until brown then flip until cooked on both sides. Serve immediately with warmed bread and tehina.