Football tends to evoke a sense of unified happiness amongst Egyptians that reaches to immeasurable depths. We see it in the street celebrations after Egypt wins an important match, and we see it in the eyes of millions of Egyptians as they anxiously watch a qualifier game. With that being said, every Egyptian football fan has a memory that resonates in their mind and heart, giving them a sense of pride. For some it's when Egypt won its first African Cup, for others it's when Egypt won its third African Cup in a row, and for other fans it's simply when, a few years back, Essam El Hadari became the fourth best goalie in the world. For us however, this one special moment of pride was when, earlier this year, Egypt's Female Football Team qualified to the African Cup for the first time in Egypt's history and won their first match of the tournament! We wanted to know what it took for our strong female football players to get there.  So we sat down with the national team's captain along with three other awesome players and spoke about the struggles, the support, the dreams and the journeys that they went through to get where they are today.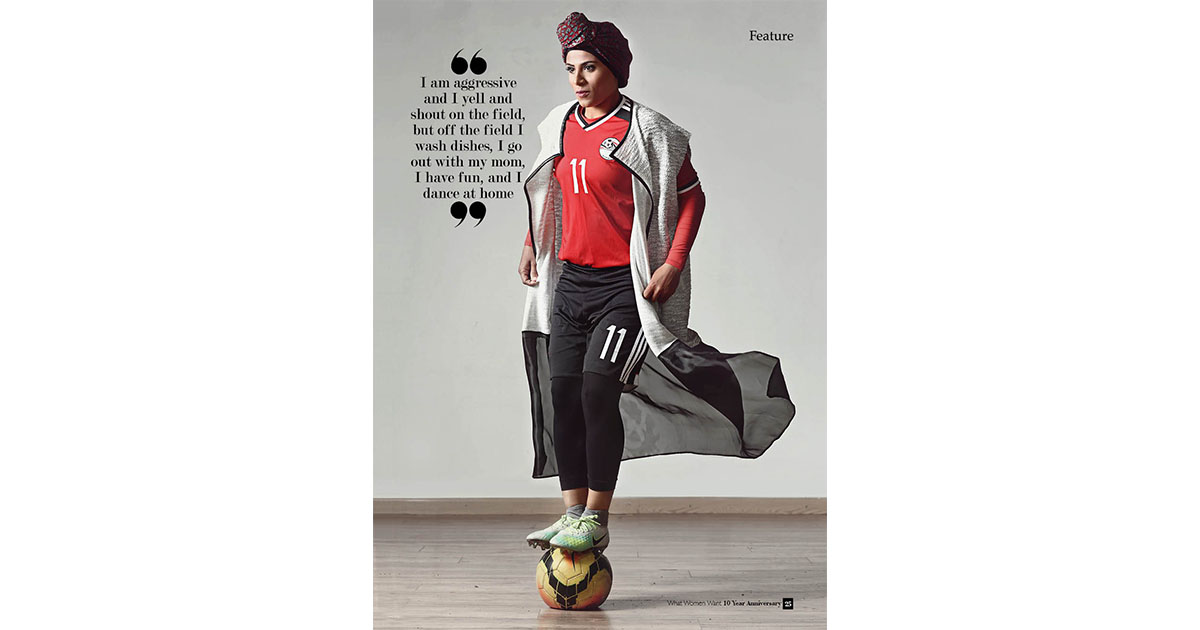 In a male-dominated society where, up until recently, playing football was not very common for women, the social journey for our female players has not been an easy ride. "I used to play street football, but everyone including my mother thought it was a mismatch. I was told that I belong at home to study and help out," the 33-year-old national team captain, Fayza Heider says. One of the most prominent negative perceptions that these women face, regards the femininity of a female baller. A few years back, an acclaimed Egyptian male football player went on TV and claimed that any woman playing football professionally unquestionably loses her femininity. We however, were sitting with and looking right at professional footballers that looked and acted just like any other girl out there. "At the very beginnings of my football journey I was constantly told things such as 'how are you, a girl, playing football?! You're going to turn into a guy!" says Fayza. She adds, "Things however, have begun to change. What people should understand is that I am aggressive and I yell and shout on the field, but off the field I wash dishes, I go out with my mom, I have fun, and I dance at home." Furthermore, Fayza explains that in the early stages of women's football in Egypt, girls who decided to play football felt the need to turn into and act like guys, and so they would cut their hair short; walking and talking like guys. Today however that is not the case and the majority of female football players are not like that. "Criticism was more dominant back then, but as our society progresses, it begins to become more accepting of the idea of female footballers" says 20-year old Nora Mohamed.
Given that she is veiled, the team captain had her own personal challenges. "In the past, FIFA didn't allow women to play football in their veil, denying their participation in championships. It wasn't until five or six years ago that FIFA approved the veil but with particular restrictions on how it's worn," says Fayza. On a more local level is 20-year-old Merna's issue with having to tolerate the criticisms Egyptians throw at her sports attire. "Some people see us and automatically start criticizing our training clothes," says Merna Mohsen who goes by the name "Messi".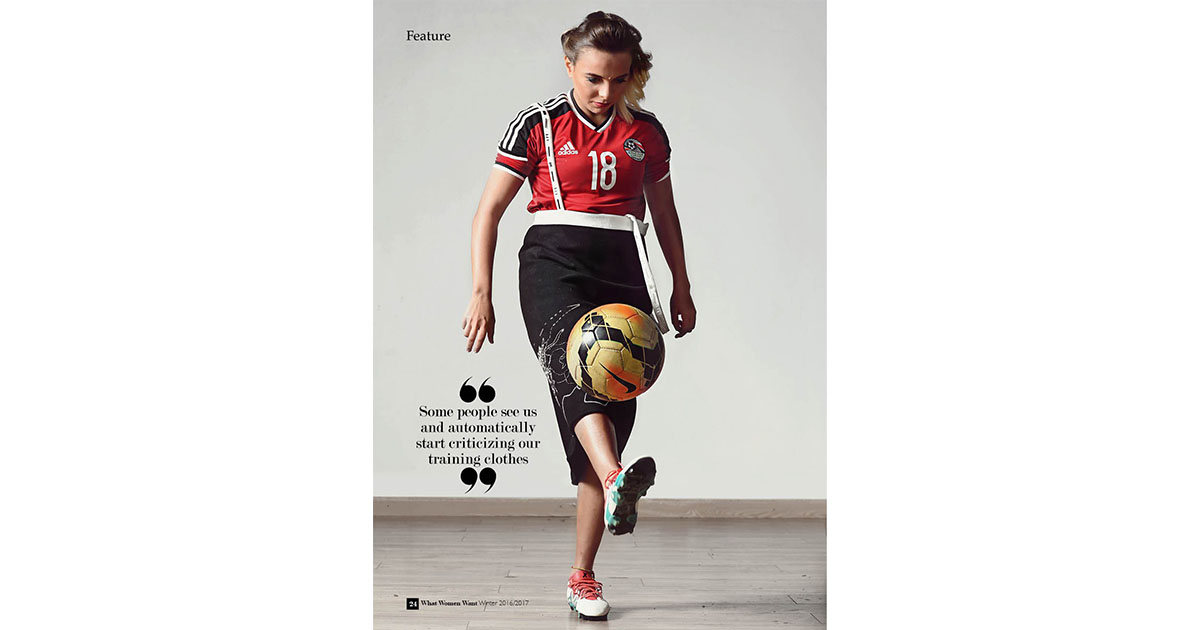 Society's disapproval of female footballers doesn't just end with mere criticism, but goes further to the withholding of financial and moral support. Consequently, young female talents are given the backs of the media, the football fans, and the Egyptian federation of football, who invest little faith in their promising talents. Before the preparations for the latest Africa Cup began, the national team held their training camps in Egypt, playing against younger local teams for experience, but this was never enough. The prep for this year's cup therefore offered them a whole host of brand new opportunities; being the team's first time having a 6-month long training camp, and giving them the chance to play 6 unofficial games with other national teams including Zimbabwe and South Africa. "Female football in Egypt is beyond marginalized, and if we hadn't won this match, no one would have bothered to look at us!" says Fayza, team captain, who is currently collaborating with the British Council in Egypt on raising awareness about women's football.
In an era where the media sets the agenda, society is partially to blame. Mervat Farouk, the 23-year-old player, argues that the media is geared directly towards male football, thus forcing the attention of viewers towards men's football while female footballers remain in the shadows. "We feel that we have no future in football; male footballers sign contracts with 6 digit numbers, while some girls get 200 LE as their monthly pay, consequently as soon as they get another job offer they take it and leave football," Mervat says. Later she adds that some even accept jobs on the side, trying to balance it with playing football, negatively impacting on their performance. This sad reality is one that these players are now taking action to change.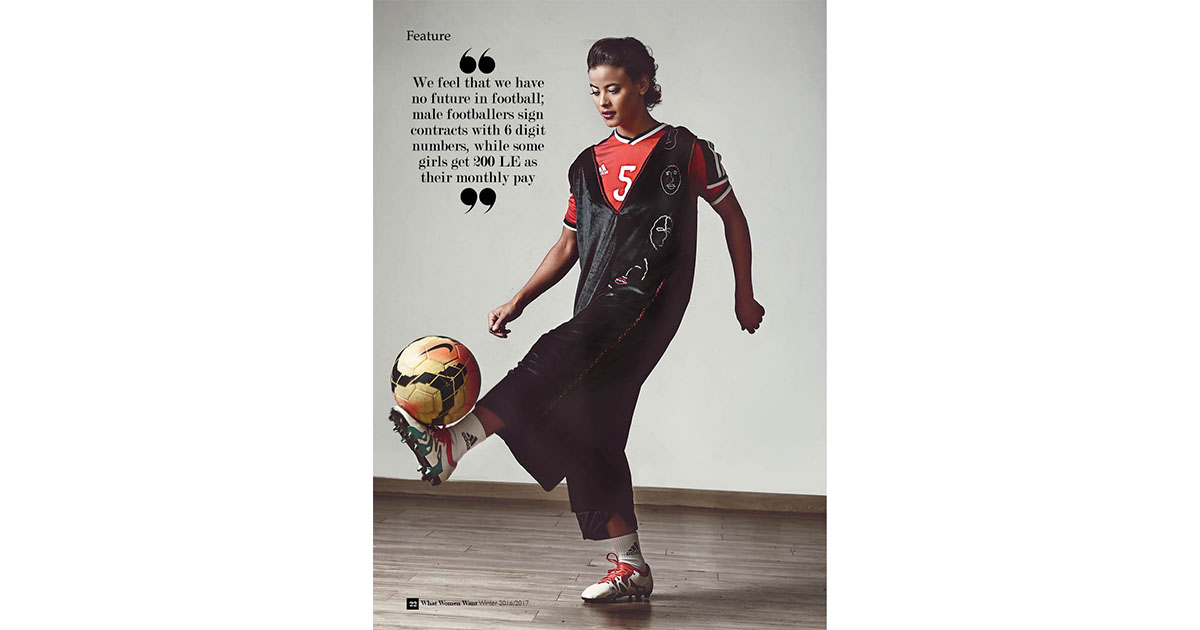 The four inspiring ballers have different dreams, different career paths and different ambitions. All of their aspirations however, fall under the same umbrella of football. Today, Mervat and Merna have their own Norwegian-funded academy where they teach young children the sport. They have all the equipment they need. On the other hand Fayza has begun her own project with the British Council in Egypt that aims to spread football to public schools. Her main goal is to build the foundations for training up younger generations of female footballers, so that they can one day go on to fill the shoes of this generation's players. "We can't keep depending on 5 or 6 players, we have to have a base that cultivates many new great players," Fayza explains. Part of her project revolves around going to less privileged/cut out neighborhoods and other provinces in Egypt and educating people on female football, aiming to break the stereotypes of femininity and masculinity that revolve around it. Moreover, Fayza has been certified to train coaches, training over 1,000 coaches in Egypt and is the first woman to coach a male team in Egypt, proving that a female is equally qualified to do it like a boss just like any male out there.
And as they live and score, their dreams for the future continue. Fayza Heider sees herself starting a family and living a perfectly balanced life alongside her career as a footballer and future coach. Mervat Farouk plans on playing in the Emirates someday and making her country proud. Nora, Merna and the rest of their team plan on following different paths of greatness, proving that there is no such thing as a male-game, because only skills can rule the pitch and not gender. As they do that, we'll continue to root for their neglected potential and support their rising talents.
Photography by Amina Zaher
Makeup by Dina Rashed
Hair by Kriss Beauty Salons
Styled by What Women Want…Magazine team