Comics, until very recently, were considered a 90's relic, but we are so glad that they seem to have come back! The revolution is part of the reason why they became so popular again – as part of the cultural awareness that was kicked off with Jan 25. We love that they are back in the spotlight and even have a few favorites now. Here are some of our favorite super talented Comic Artists that are worth your attention! 
Mohammed Shennawy – Shennawy (behance)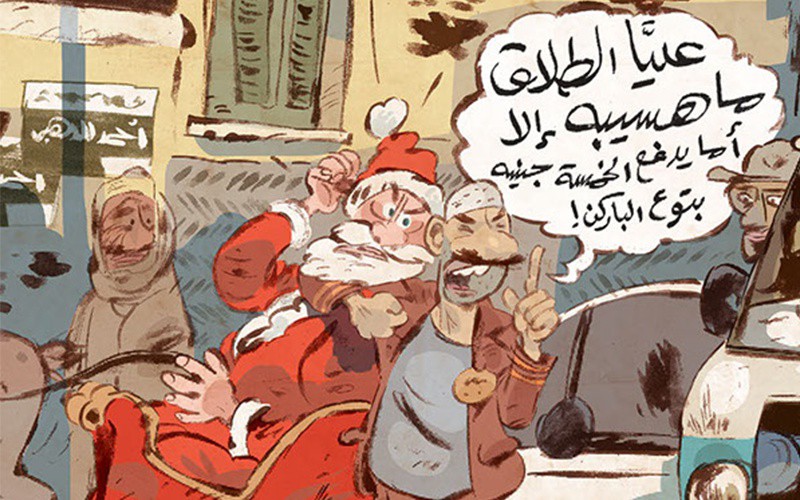 Mohammed developed a passion for comics when he was only a teenager. His first work in the field was in Alaa El Din magazine back in 2000. In 2009, his short comic Plus De Batterei was nominated for an award. He then went on to founda comic called Toktok alongside artists Makhlouf, Hesham, Rahma, Andeel and Tawfik. It was published in 2011. Toktok was published just weeks before the revolution and was highly recognized. It is still sold until now to a solid fan base. His work now is mainly aimed at adults and deals with everyday life in Cairo, something we can all relate to.
Deena Mohamed – @Qsuperhero (Twitter)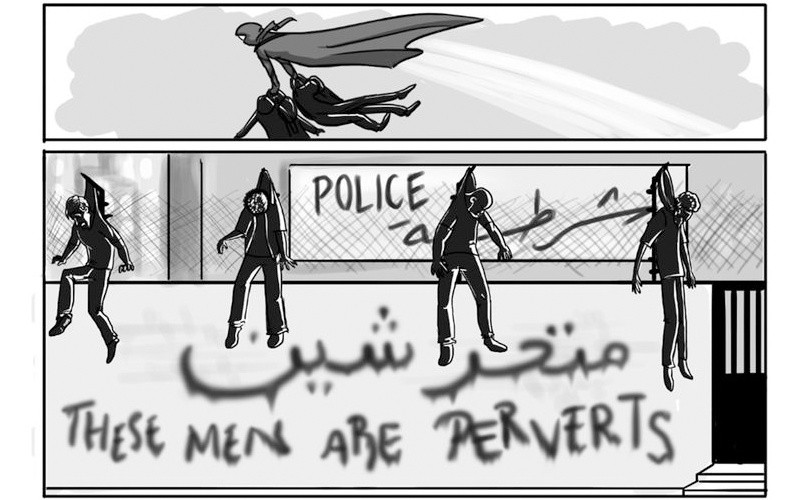 Known for the great comic Qahera, the very first Egyptian comic with a veiled woman for a superhero! She started drawing when she was only 9 and at the young age of 19 she tackled many important issues with her comics, such as sexual harassment, Islamophobia and oppression of women. The comic is inspired by some of her own experiences along with what women around her are facing. Qahera tackles issues veiled women face in Egypt and even abroad, that's why the comic is in English, in order to spread awareness to people all over the world. Deena is very passionate about what she does and we can see that in her strong work.
Magdy El-Shafie – magdycomics.com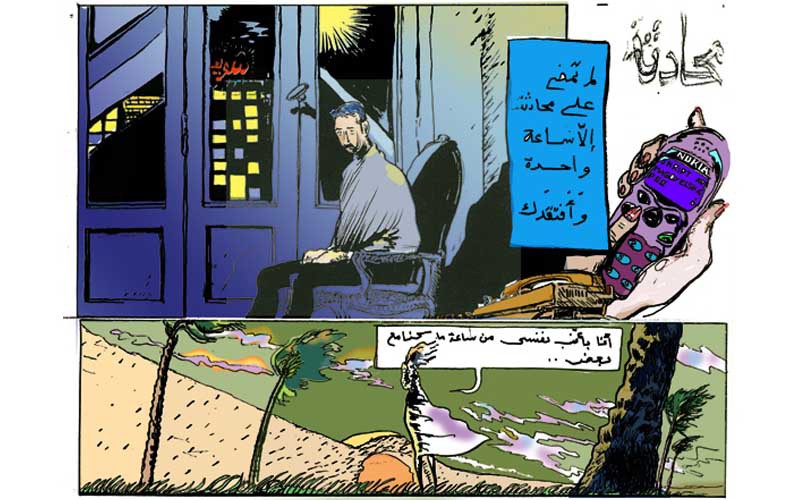 Magdy is a pioneer in the comic world, his work inspiring many people to get into the business. It wasn't until 2008 that his famous graphic novel Metro was published. Soon after it was published, the police invaded the publishing house and confiscated all the copies and fined them. Despite these obstacles, the book was translated into many languages and performed wonderfully. Its Italian translation was exceptionally successful and was on the Best Sellers list for a significant amount of time. You can order the book online or you can find the English version of Metro in Diwan. Magdy is the Founder of the comics El Doshma, which is a collective project and involves other comic artists and illustrators. Its slogan says it all: "know your rights". He was also part of the comic Toktok.
Mohammed and Haytham Raafat – Haitham Raafat El-Seht – Garage ???? (Facebook)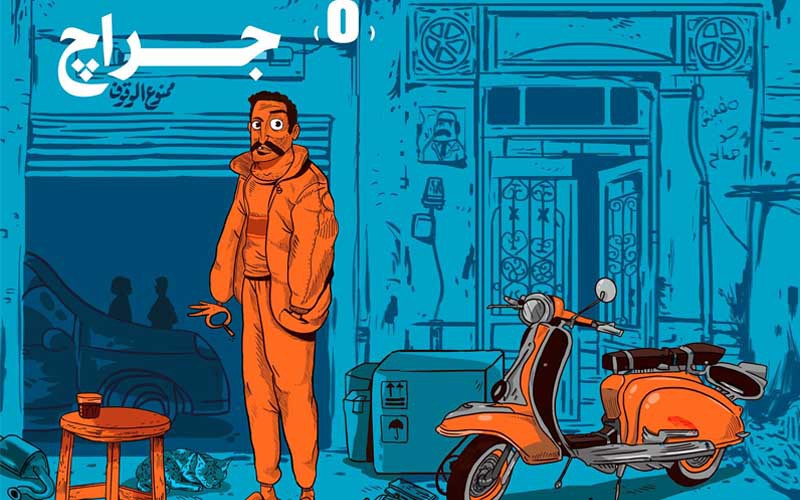 These two twin brothers who work under the name Twins Cartoon are Founders of Kawkab El Rasameen, aimed at bringing artists of the same interests together in order to manage and initiate projects. From Kawkab El Rasameen came the comic Garage, which includes collective work from other artists. The first edition was published last August, and the brothers aim at publishing a new edition every three months!
Ahmed Nady – @ahmad_nady (Twitter)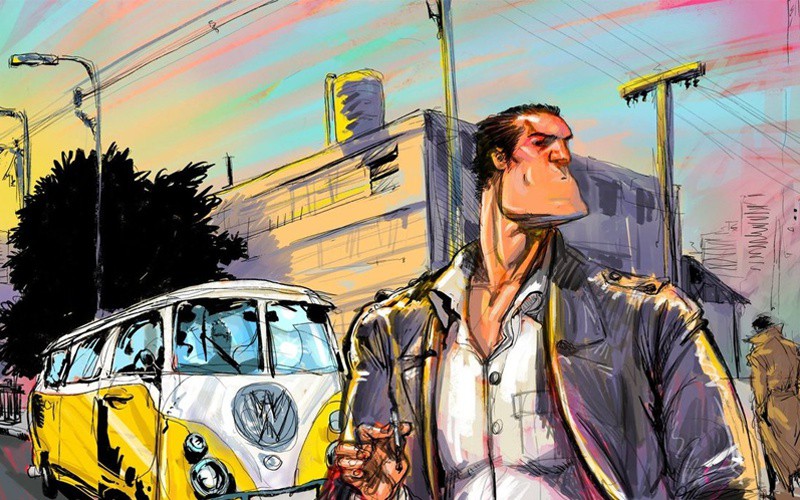 Ahmed is a political activist who expresses his ideas through his cartoons and comics. His comic career was kicked off at the young age of 14. He quickly became one of the most known artists in Egypt, but then his career boomed after the revolution in 2011. Coming from an artistic family, it's only natural that he became who he is today. Ahmed worked on a sexual harassment campaign called "What Will You Do?" Ahmed's drawings were hung on the walls of Cairo's metro stations to spread awareness about this issue. A lot of his work has been shown in several exhibitions and he has won several awards for his bold and courageous work.
Fatma Mansour – @fatmamansour (Twitter)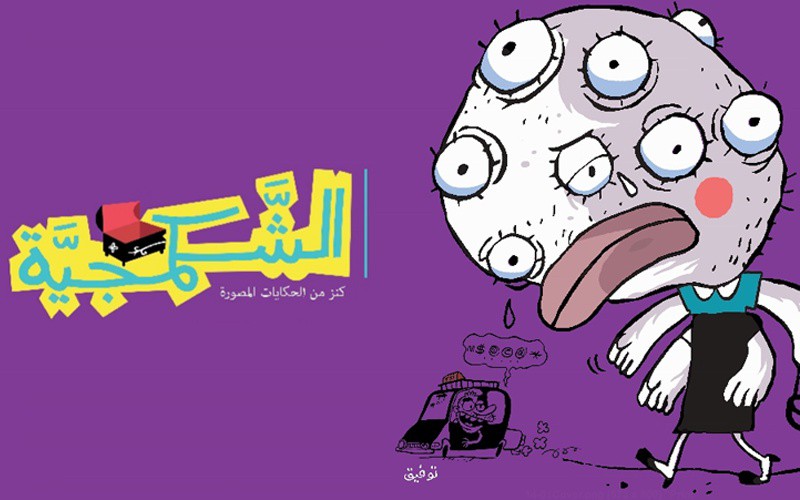 Fatma is an originally Yemeni Comic artist and the Editor in Chief of the comic magazine Shakmagiya. Shakmagiya tackles feminist issues that we deal with everyday such as harassment and oppression. The magazine aims at raising awareness about everyday issues that an Egyptian woman deals with, in reference to our political situation using sarcasm. The comic magazine will publish an issue every 3 months, with each issue targeting a certain social topic. Using sarcasm in her comics, she makes very heavy issues more accessible and appealing to read. Fatma has a Master's Degree in Feminism and is very passionate about her work.
Ahmed Omar – AO Artworld (Facebook)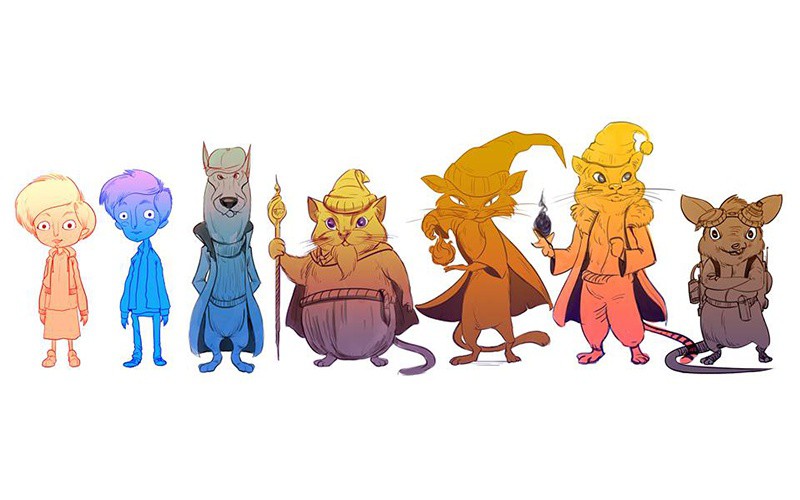 An artist at only 7, he took his passion for art with him when he studied Fine Arts in university and that soon led Ahmed to be the serious comic artist he is now. He has worked on some games and movies as well as El Doshma, a comic magazine based on real political events. The first edition tackled events that took place during the revolution, and the following editions have also tackled real issues and events in the Egyptian society, which makes it very relatable to the Egyptian people.
Sherif Adel (Barbatoze)- @barbatoze (Twitter)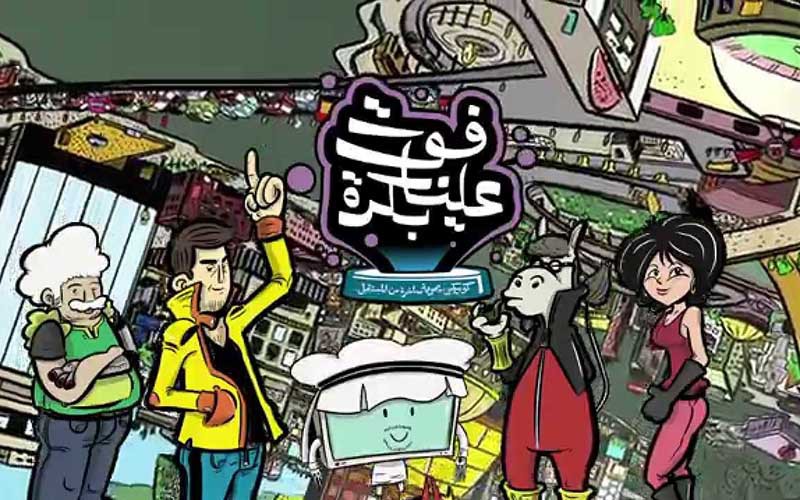 A dentist and cartoonist, and he loves both jobs! His career in comics began 4 years ago when he started his blog where he shared his drawings and soon became popular on Social Media, known by his alias, Ragol Al Barbatoze. Sherif is most known for his comic Foot 3alina Bokra or Pass by tomorrow. It is set in the future, where Egypt is called New Egypt, but really everything is the same. In the first issue, we are introduced to an alien race that is "returning" to Egypt, and each issue picks up where the other left off as the main characters try to save Egypt from alien invasion. The comic is hilariously sarcastic with many Sci Fi references for keen fans with a sharp eye!
Doaa El Adl- @doaaeladl (Twitter)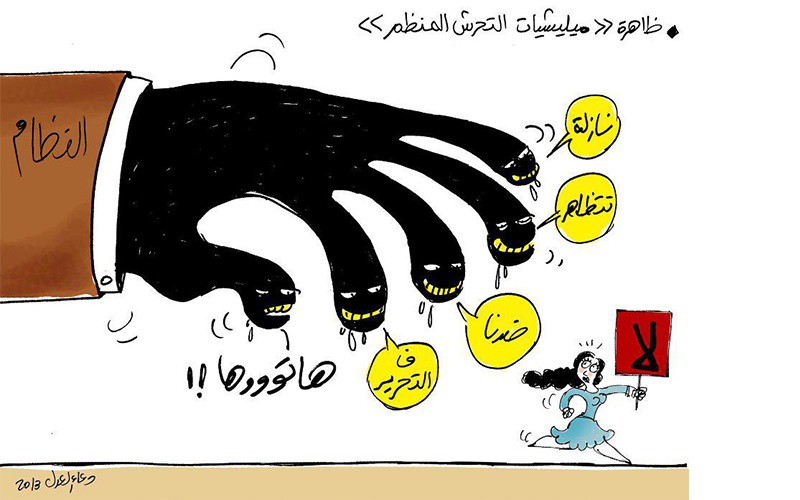 Doaa is a cartoonist that worked with several newspapers and magazines like El Dostour, Sabah El Kheir and El Masry El Youm where her illustrations send political messages or sometimes tap on feminist issues (a man with scissors aiming between woman's legs to cut flower targeting female genital mutilation). On the other hand, she has also done some children's work. Doaa even won several awards for her work, at a young age we believe there's still a lot to come from her.
Ahmed El Hefnawy – @Hefne (Instagram) and www.hefne.com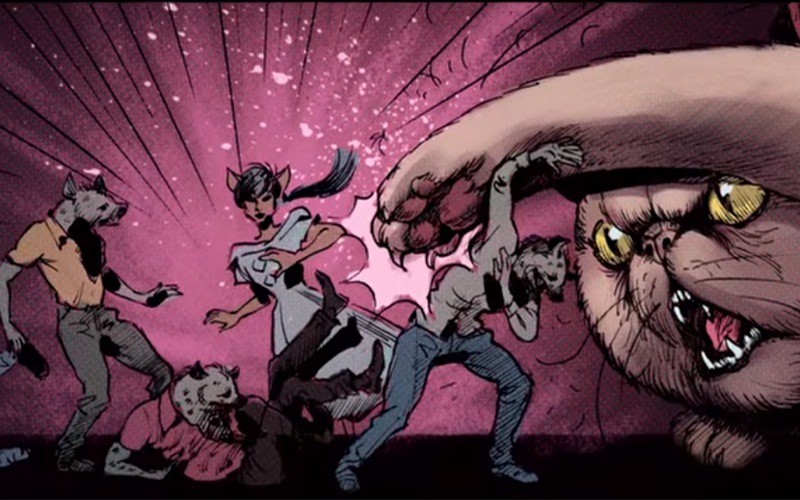 Ahmed El Hefnawy is proof that you can make a living out of your art. Since 1996 and until now he has culminated an impressive resume. He has done illustrations for Alaa El Din, Caricature and Bolbol Magazines. He then moved on to working as an illustrator in Advertising agencies and became a huge success in the business. He also recently worked on the gloriously weird new Cairokee video Marbout Be Astek alongside Mohamed Mostafa.
Ahmed Raafat – @theahmedraafat (Twitter)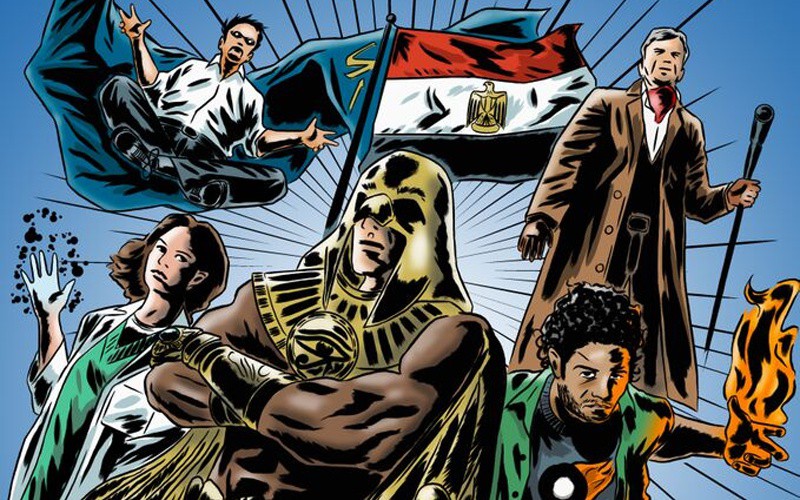 Not only is he a fantastic comic artist, he is also an engineer! Ahmed is part of the new comic magazine El 3osba, an all-Egyptian superhero comic book created by John Maher and Maged Raafat. Starting from the first issue, you begin to discover their powers and origins. The comic deals with real life Egyptian issues such as corruption and terrorism. El 3osba have released one issue until now and it's available in Kryptonite.
Mohamed Wahba – Mohamed Wahba's art (Facebook)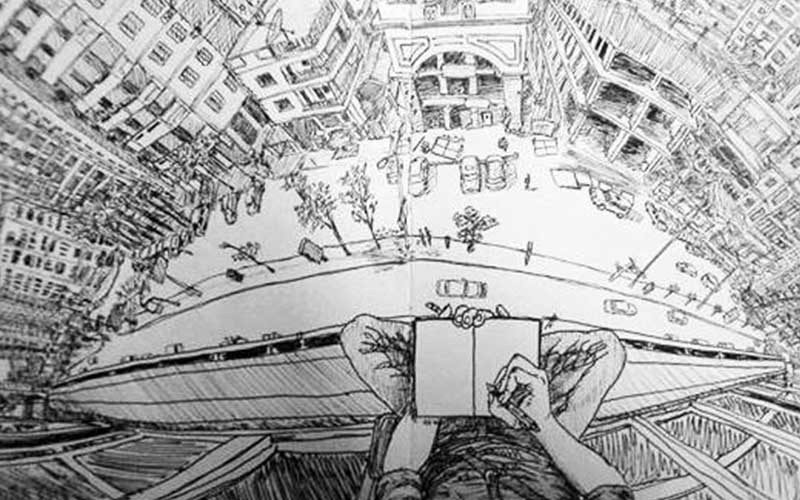 Mohamed Wahba is a different kind of comic artist, his drawings are of landscapes. His first book, Cairo, was of illustrations from the highest points in Cairo, looking down onto the Capital. Even though his drawings are in black and white, they really show the feeling and emotions of the dynamic and busy Cairo.  He is now working on a project in Siwa where he will be drawing that area.