Go to the western world and say the words "Muslim women" and the first word that comes to mind is "oppressed". Go to the Arab world and say the word "veiled" and the first word that comes to mind is "trapped". Many of us know that these two responses are not so reasonable and are untrue, but many others sadly do still believe them. Instead of talking about how Islam values and frees women through its teachings, we will show you 5 veiled Muslim women with unconventional interests that are breaking stereotypes and societal barriers:
Gisele Marie – The Metal Guitarist
In her black Abaya, black headscarf, black burqa, and guitar, convert Gisele Marie is insanely breaking barriers showing people that her religious decisions are not holding her back from anything. In her henna-drawn hands, Brazilian Gisele plays guitar and rocks it on stage to metal music with her brothers. They have a band named "Spectrus". In their gigs, Gisele shreds her sick skills to the audiences, sending out shock waves waking people up to the reality that yes, a fully covered woman in a burqa can free herself on stage and be a skilled musician like any other.
Stephanie Kurlow – The Young Ballet Dancer
She moves beautifully, she reaches astounding heights, and she looks like an absolute princess. 14 year-old Stephanie Kurlow from Sydney Australia, who converted to Islam along with her entire family, not only dances ballet professionally in her veil, but dreams of becoming the first Muslim Hijabi Ballerina. If that wasn't enough she wants to open a dance school that caters to dreamers of different religions, races and upbringings. She is an inspiration to young Muslim women, and is showing that veiled women cannot only follow their dreams whatever they may be, but can do so with extreme grace.
Sarah Attar – The Professional Runner
Perhaps the one country that is still catching up with women's basic rights could be Saudi Arabia. However, even then, runner Sarah Attar, is showing the world that nothing will stand in the way of her and her passion, not even her veil and Islamic beliefs. Attar participated in the 2012 Olympics, where she became one of the first two women to compete for Saudi Arabia. Then, in 2016 she participated in the 2016 Rio Olympic games. She runs her out, she is representing, and she is doing it with absolute confidence and pride!
Aya Emam – The Multi-talented Instrumentalist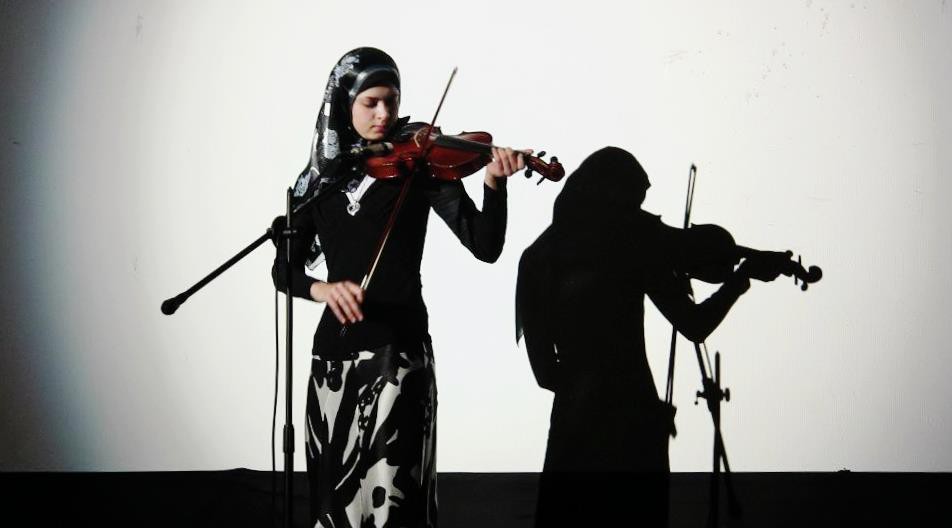 Aya Emam is an Egyptian passionate student studying Music at the American University in Cairo. She plays the violin professionally, and four other instruments for fun: piano, oud, guitar and drums. That's a total of five instruments! If that isn't impressive, we don't know what is! The veil is definitely not holding her back from the rhythms and beats she wants to let loose!
"We're Muslim, Don't Panic" – The Muslim Hip-hop Dancers
Who said Muslim women in Burqas and Abayas can't be dope and hip? It definitely sounds unusual, but Amirah Sackett, Iman, and Khadija, are turning the tables against discrimination in their hip-hop group "We're Muslim, Don't Panic". When France banned Muslim women from wearing the veil to schools claiming that it oppresses women, these three girls teamed up to show people just how free they are, smacking the claim right on its head. They sharply move their bodies to beats of hip-hop, with equal confidence, creativity, and sickness as any other hip-hop dancer out there and are owning up their personal religious attire decisions.