After the release of the music video that everyone has been jamming to, the internet sensation Marwan Younis shows us once again that he is never out of tricks up his sleeve! The catchy tunes of Younis' first ever Mahragan took the interwebs by storm, as all over timelines and newsfeed were about nothing but El Farafeer. In real life, Marwan was killing it at El Gouna Film Festival, owning the red carpet for his live show "Mesh Begad". On GFF red carpet for the opening and closing ceremonies, Marwan interviewed many celebrities like Shereen Reda, Asser Yassin, Mohamed Mamdouh, Arwa Gouda and the list goes on! Not only that, but he also had one-on-one live interviews with Dorra, Amina Khalil, Abu, Hana Shiha and Riham Abdelghafour.
For "Eyar Nari – Gunshot" premiere, Marwan didn't stick to the classical tuxedo look for the red carpet, he pulled a Harvey Dent; styling his hair differently, and wearing two mismatching shoes. Regardless of being attacked by some of the media for his look, Marwan went out of his way, all in favor of hammering on the film's concept, and stealing all the lights while he's at it!
After the booming success of Begad fi Ramadan on NRJ, Marwan will once again invade your cars, phones, and homes as he comes back to Cairo's favourite radio station with another show along with a live session, blessing everyone for 2 hours on Begad fel Radio every Thursday, from 4 pm to 6pm. The show kicked off successfully this Thursday, and we just cannot wait for the next weekend already! There are also juicy talks that a Marwan's own show is now in the works.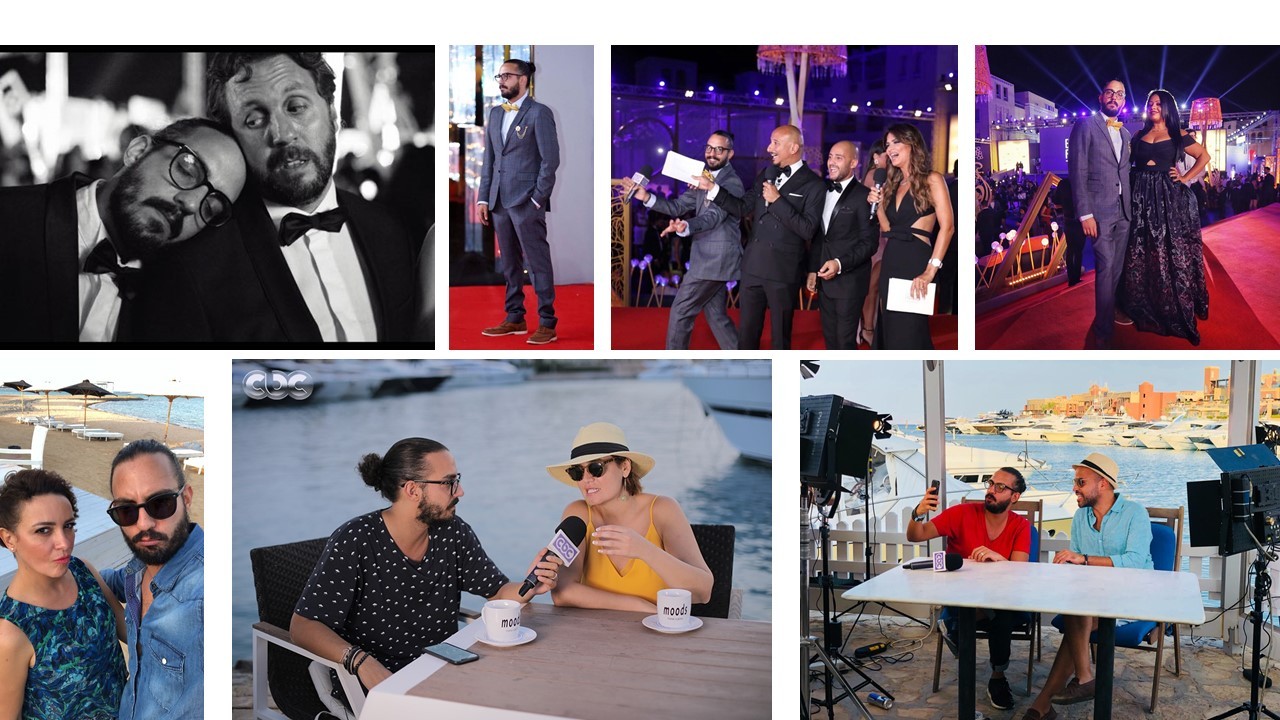 Here's how NRJ and Marwan announced Begad fel Radio:
https://www.facebook.com/NRJEgypt/videos/173617586859441/
Find out what happened on the first episode of Begad fel Radio, as Marwan threw an impromptu contest and the winner got to call Asser Yassin here:
https://www.facebook.com/NRJEgypt/videos/286312222093672/
#NRJLiveSessions with Malak El Husseiny:
https://www.facebook.com/MalakxMusic/videos/2017261971898216/
If you missed out on what happened during Gouna Film Festival, or you just want to re-watch it (we all do), here are the links of Mesh Begad:
https://www.youtube.com/watch?v=Rq80TzIiL7k
https://www.youtube.com/watch?v=k9TSkhBm_uI
Watch how Marwan became Harvey Dent for Eyar Nari's premiere:
https://www.youtube.com/watch?v=bNzP3GttKXc
Marv's interview with Amina Khalil:
https://www.youtube.com/watch?v=Mldr8MwveOQ
Injy El Mokkaddem:
https://www.youtube.com/watch?v=AxNENvxCdpw
Riham Abdelghafour:
https://www.youtube.com/watch?v=hF8StqHdvpg
Dorra:
https://www.youtube.com/watch?v=i3AGkGUlIqI
If you've been sleeping under a rock and somehow missed this on your timeline, here's El Farafeer's full music video:
https://www.facebook.com/MarvUnis/videos/10160856186865154
and here's the Anghami link:
https://play.anghami.com/song/40838209
Not only can you listen to the song on many other platforms, but you can have it as your ring back tone and have your friends jam to it as your phone call (and yes, it's available for all the telecom companies!) All you have to do is head to @marvunis' Instagram account to find the RBT code.
If you fell in love with the music video, we're sure that you'll keep watching the bloopers video for days:
https://www.facebook.com/elfarafeer/videos/285086388760581/