On a hot day in July, Amina Khalil visits our studio with her lovable dog Beanie (aka Bon Bon). She is clad in a pretty summer dress with her wet hair and zero makeup. She is beautiful and full of light and energy. A woman like her defines why hard work always pays off. When we interviewed Amina back in 2013, she told us that "acting is like a muscle, you need to work it out all the time", and yes, since then Amina has been working it out in several successful movies like Sokkar Morr and El Mahragan. Of course after the uber success of Grand Hotel, Amina's up and coming resume is expected to include similar outstanding roles, "we all want to aim higher and go bigger. Not bigger in terms of the role, but more challenging. I think with each role I do, I like to do the opposite of it in the next one. Last Ramadan I had a smaller role in Esteefa, which was the gothic weirdo, and the year after I did Nazly", she tells.
This year, Amina Khalil's grand success blew us away! Being down to earth and sweet, Amina has always been perceived as 'the girl next door'. Today, this independent spirit has marked herself as one of Egypt's most sought after actresses.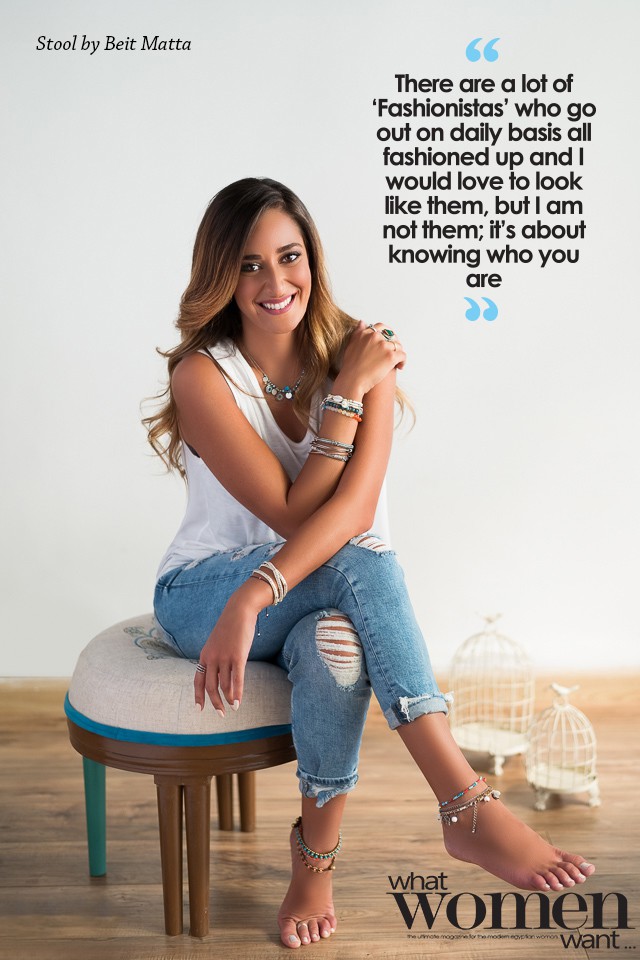 This year, female actresses mastered powerful performances, especially younger actresses, "I think it has been like this for a few years. We always waited for Youssra and Ghada Abdel Razek. I think TV isn't as male dominated as we think it is. The change that I'm noticing is that there are more powerful female parts within every series", she says.
The love story between Ali and Nazly received amazing support from the audience. As controversial as it might sound, Nazly loved someone else other than her own husband, but society didn't throw stones this time. So did this love story change people's perception of 'cheating'? "I got this feedback, but even when I was acting the role, I didn't feel like I was doing anything wrong", she laughs, "we didn't judge Nazly because we lived her story from the beginning. I think it's actually the director Mohamed Shaker's cleverness to not turn this into a taboo; she's not a cheater, it's such a loveable story; that's why everyone was rooting for them to end up together", she elaborates.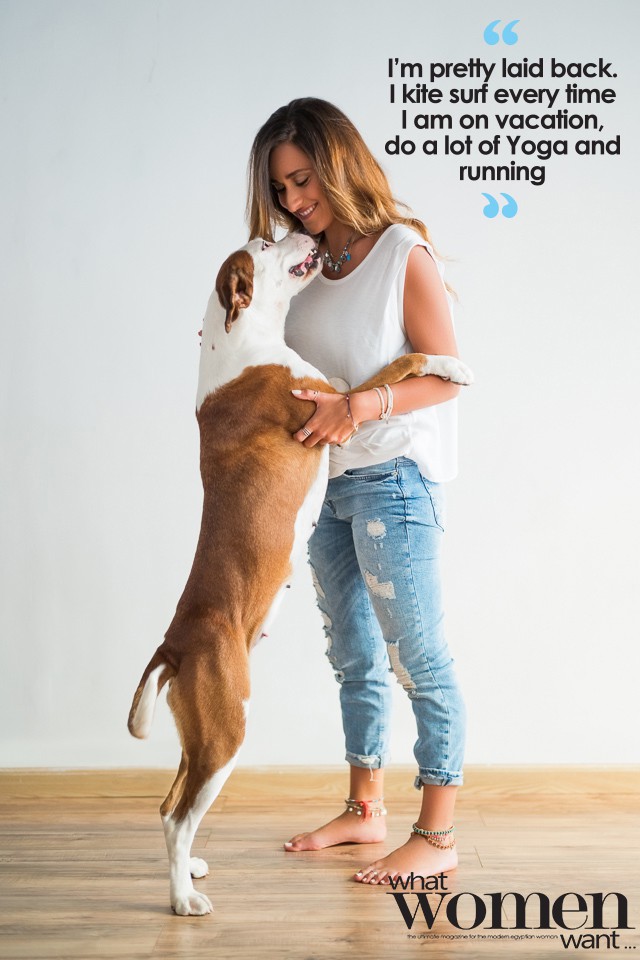 In this day and age, it is very hard to find audiences from our background and age bracket attracted to the nice and sweet character. People always tend to think sweet scenes are corny or cliché, "this is Mohamed Shaker, the magician, who knew how to do that. He knew when to tone us down and how to keep us within his vision. We had a really good director", Amina explains, "the combo between Tamer Habib and Mohamed Shaker is a main pillar why this was successful. If you put these elements together it's literally magic. I know how insane it sounds! That's why when it ended, it was bittersweet. I was crying and smiling at the same time. I think those elements combined with the crew is all like putting pieces of the puzzle together to come up with something so beautiful", she adds.
Social Media can be a double edged sword when it comes to instant feedback from fans. And celebrities need to know how to deal with it and be politically correct at the same time, "I care about Social Media because I do like to interact with my fans. I got messages on Instagram from girls telling me that I inspired and moved them, and that's beautiful; it's very gratifying. You have to interact with your fans because it's 2016 and it's the age of the Internet. Of course you can't listen too much to everything because there will always be haters out there. You'll always have people saying things like 'you're ugly', 'you're fat' or 'your nose is horrible'", she explains.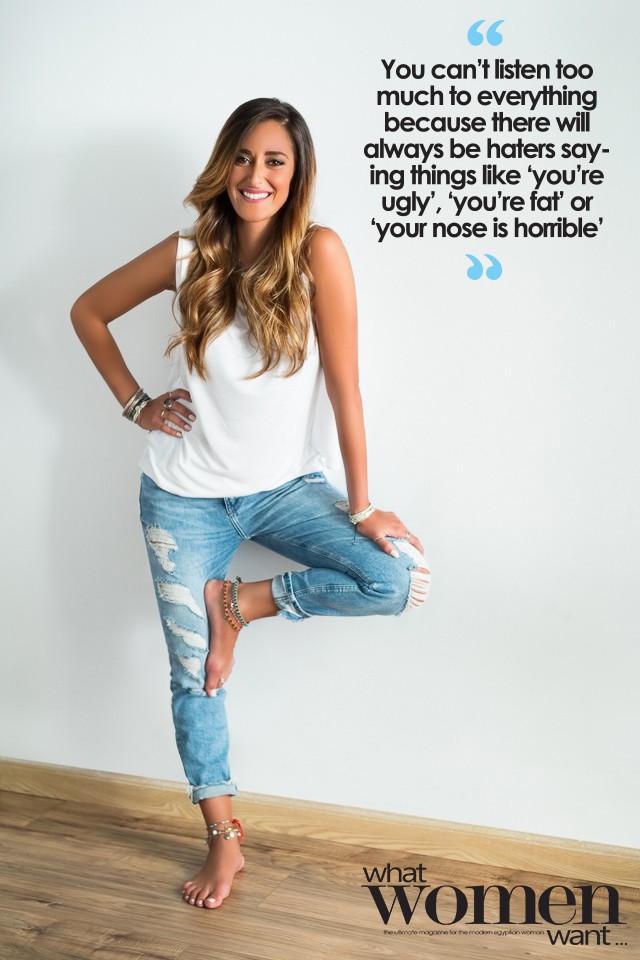 With all of the women empowerment and Inner Beauty campaigns taking place, plastic surgery is considered as important as Social Media for some actresses, all over the world that is, "I got a message on Instagram saying 'Please get a Rhinoplasty (nose job)', you will look much better and I responded saying 'thank you, I think I'm fine'. It's not that I like the way I look so much as this is how I look! Sometimes I have considered it because I even got it from directors who would tell me to go get a nose job. This kind of talk breaks parts of you on the inside, then you think about it and say 'No, this is how God created me. This is me'", she says.
The dazzling actress appeared in Sharmoofers' video clip Zombie, which criticized the whole 'Influencer' scene, "I enjoy clothes and shopping like crazy but to my own taste, I shop because I want to, not to prove anything to anyone. There are a lot of 'Fashionistas' who go out on daily basis all fashioned up and I would love to look like them, but I am not them; it's about knowing who you are. I work 24 hours a day and have social commitments after work, so my lifestyle doesn't really permit me to be constantly on top of things. After work, I wash my face from all of the shooting makeup and become Amina again", she tells.
Amina is a laid back and chilled kind of girl. She likes and appreciates her hobbies and talents, "I'm pretty laid back. I don't feel like I have to get dressed up nicely and wear makeup to go out. I kite surf every time I am on vacation in Ras Sudr. I started it three years ago and I love it. I really like this extreme sport sort of thing. I also do a lot of Yoga and a lot of running. Running is good because it lets out all your negative energy", she tells.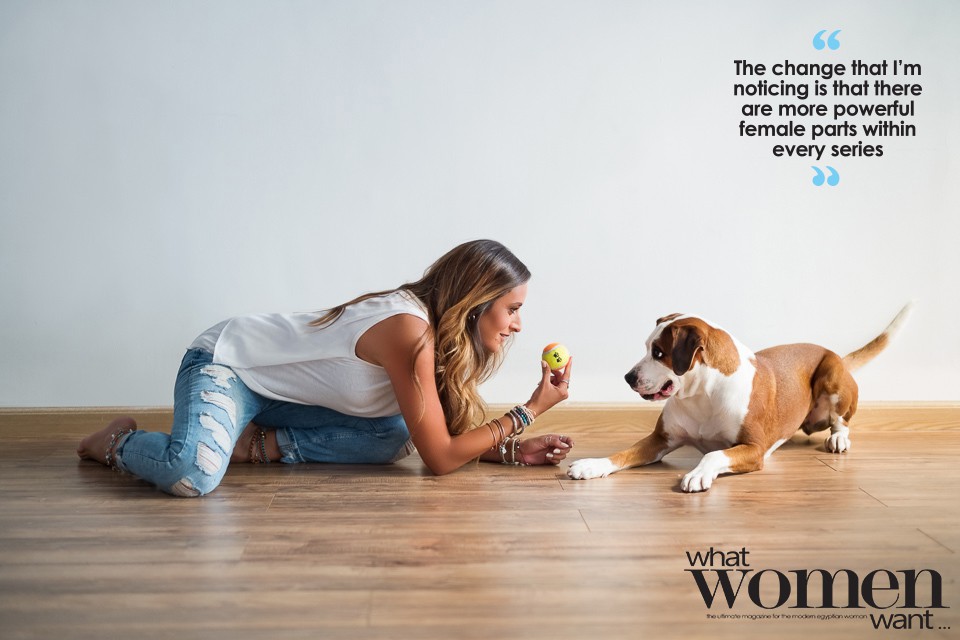 Amina doesn't allow fame to get in the way of her social life; she likes her life the way it is, "fame will get in the way of your life if you let it. I go out and I do my thing except if I'm in a public place people are going to come to take pictures with me. It's okay; it's part of the job. It's just you have to accept and understand that you have the right to say no. If I'm out with my best friend and she's telling me about something important in her life, and someone asks if they can take a picture with me, I'll have to excuse myself that I am in the middle of something", she explains.
With Social Media shaping our lives and online newspapers going on a viral frenzy, lots and lots of celebrities fall victims of fake news and cheap content, "you completely ignore it unless what they wrote is directly affecting another person, like a rumor about you speaking ill about someone else", she says.
Amina is beautiful, successful, talented and most importantly, has a huge fan base, which pops the question, can women have it all? "I think it's all about the balance. If you want it all, you can have it all. If you want the job, work for it. If you want the man, go get him. If you want the kids, come on! By all means! The only person who can dictate whether you can or can't do something is yourself", she concludes.
And that's why Amina conquered our hearts this year!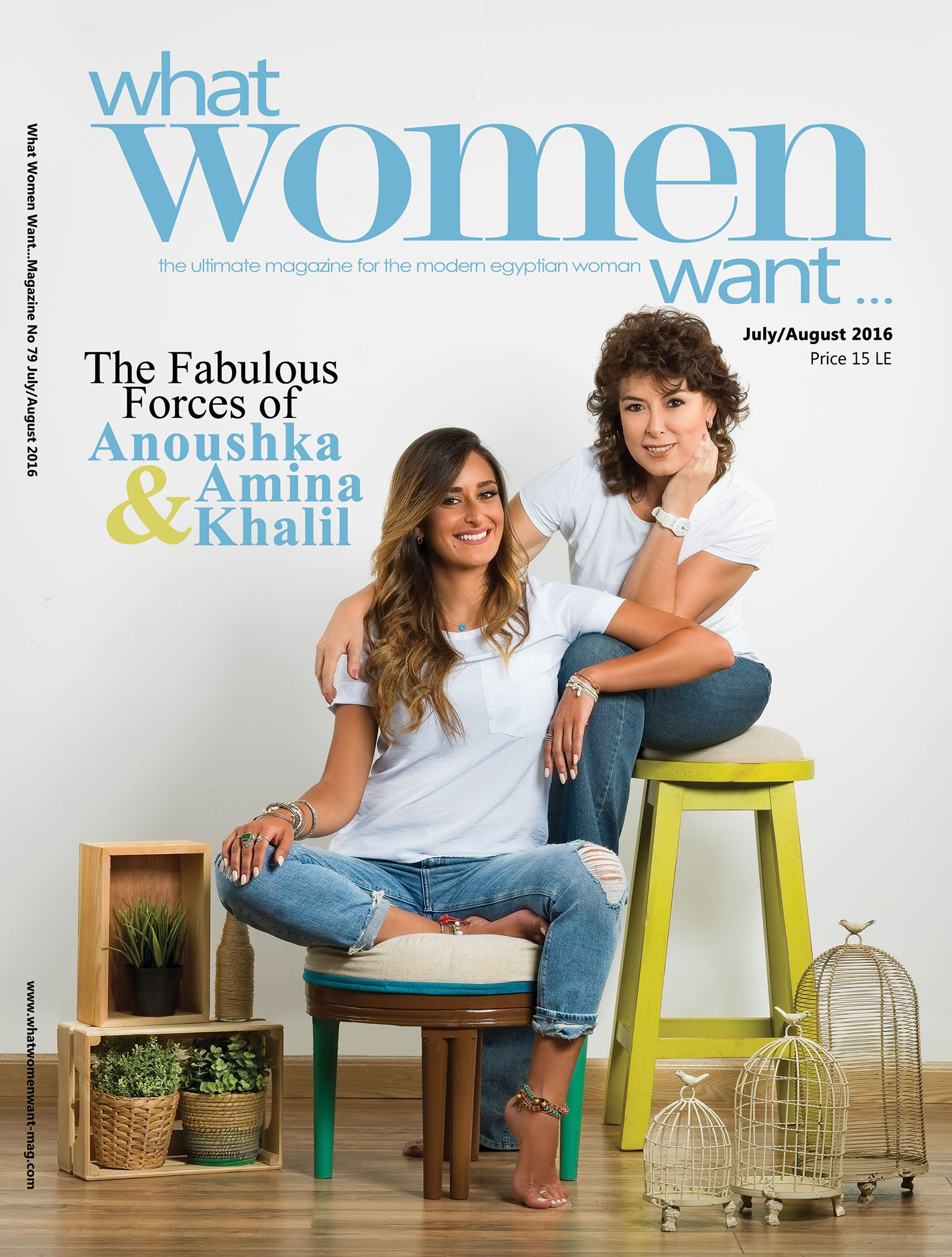 Photography by Remon Elmarkiz Photography
Art direction by Yasmin Ashraf
Hair by Alsagheer Group
Anoushka's makeup by Yasmine Ebeid
Amina Khalil's makeup by Diana Richy, the Make-up Artist
Catering by Crave
Props by Dokan Boutique and Beit Matta.
Shot at Media & More studios