Let us be honest, we all have hair issues. Whether we have mistreated our hair, or just naturally happen to have dry hair, we all need to be gentler and kinder to our locks. The beauty world is evolving and we want to play along with all the different new hairstyles, but thanks to heat, keratin treatments, bleach, and dye, many times we find ourselves needing to nourish our hair and give it some much needed moisture. And in the spirit of embracing our natural beauty, many of us curly heads want to transition back to our all-natural curls. For all those cases, the solution is to nourish and moisturize the hair, and to also gently cleanse it; there will be none of those harsh shampoos in your life if you want to make sure your hair is nursed back to shiny, bouncy health!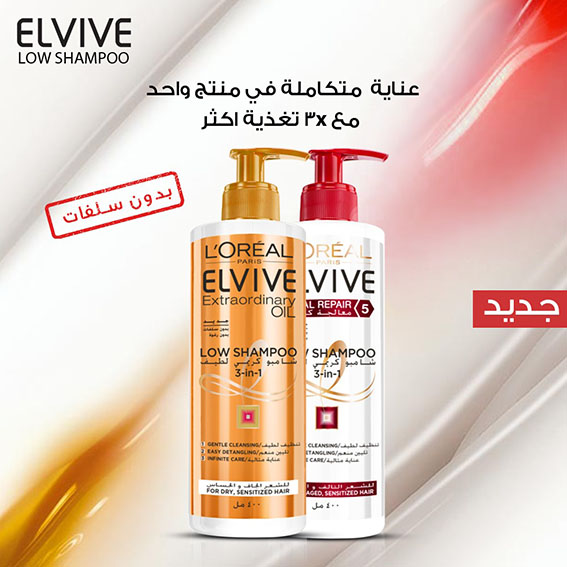 This is where L'Oreal stepped in and changed the game. The Low Shampoo innovation is a gentle alternative to regular shampoo with less foaming effect. This cleans the hair while avoiding the damage of foam which aggravates hair sensitivity.
The L'Oreal Elvive Low Shampoo is a creamy shampoo with no sulfate, foam or paraben. This gives your hair gentle cleansing action, while simultaneously nourishing and detangling the hair. Thus, it is perfect for curly hair routines, and for over-processed hair, as it will provide the right kind of care to sensitized hair. Not only that, it is a 3-in-1 shampoo, which will shave quite a bit of time off your hair routine since it is a shampoo, conditioner and hair mask all in one!
Instead of going for the No Poo routine, which replaces shampoo entirely with conditioner, this shampoo will provide gentle cleansing that will leave your hair clean but not stripped of its natural oils. Ideal for damaged, over-processed and transitioning back to curly hair. And the fact that it does not contain any sulfates or parabens means you are also avoiding all the chemicals which increase hair damage.
So, owners of dry, parched hair, rejoice! For you have finally found the perfect solution for your beautiful, albeit difficult to manage, locks. Make the switch to L'Oreal Elvive Low Shampoo and you will find your hair nourished, moisturized, and cleansed with no damage or frizz. And watch your locks transform into the best version of themselves yet