When you scan the media these days, you'll see lots of initiatives working for women empowerment. There are many thinkers who wrote (and continue to write) about women and many activists who fought many battles to empower women. However, it isn't until such battles are showcased using art that they are fully understood and appreciated by a wider range of audience.
Hala El Sharouny
Hala's work is blatantly all about women; all different kinds of women. When we asked her about her art when we interviewed her a year ago, this was her response, "satirical, strong, and about women". Through her beautiful bold paintings, Hala aims to showcase the strong, rebellious aspect of women. She sees rebellion in all her pieces that represent women.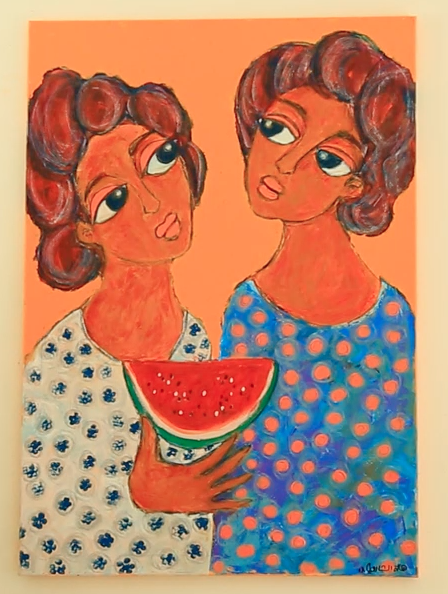 Instagram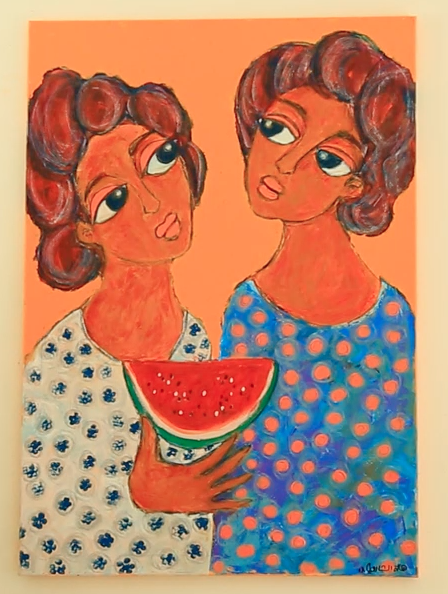 Sayed Arafat 
Sayed Arafa is a versatile artist. His passion for art doesn't stop at learning and practicing it but he also cofounded Place Des Arts that offers artistic, cultural, and educational workshops as well as classes and activities. His latest exhibition, "Matigi", which took place last May at Darb1718, sheds light on women's experience with sexual harassment. The experience of sexual harassment was strongly portrayed through strong collage images, a powerful video of women speaking about their experience with harassment and a dark room where scattered harassment phrases are projected through mirrors, accompanied with distorted female voices reading those phrases.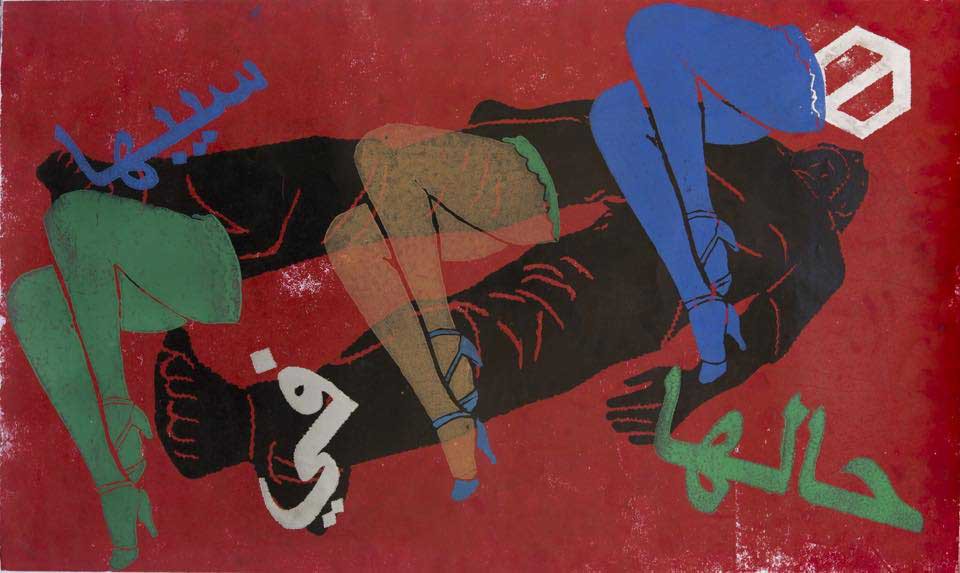 Baheya Shehab
Shehab is an art historian, scholar of Arabic script and calligraphy professor at AUC. Her exhibition "A Thousand Times No" which showcased back in 2012 is one of her most famous work. In this exhibition, she aimed to visualize the word "No" in Arabic in a thousand different ways. One of them was using a blue bra with a caption saying "no to stripping" referring to the famous incident of the young lady who was stripped during clashes after the 2011 revolution.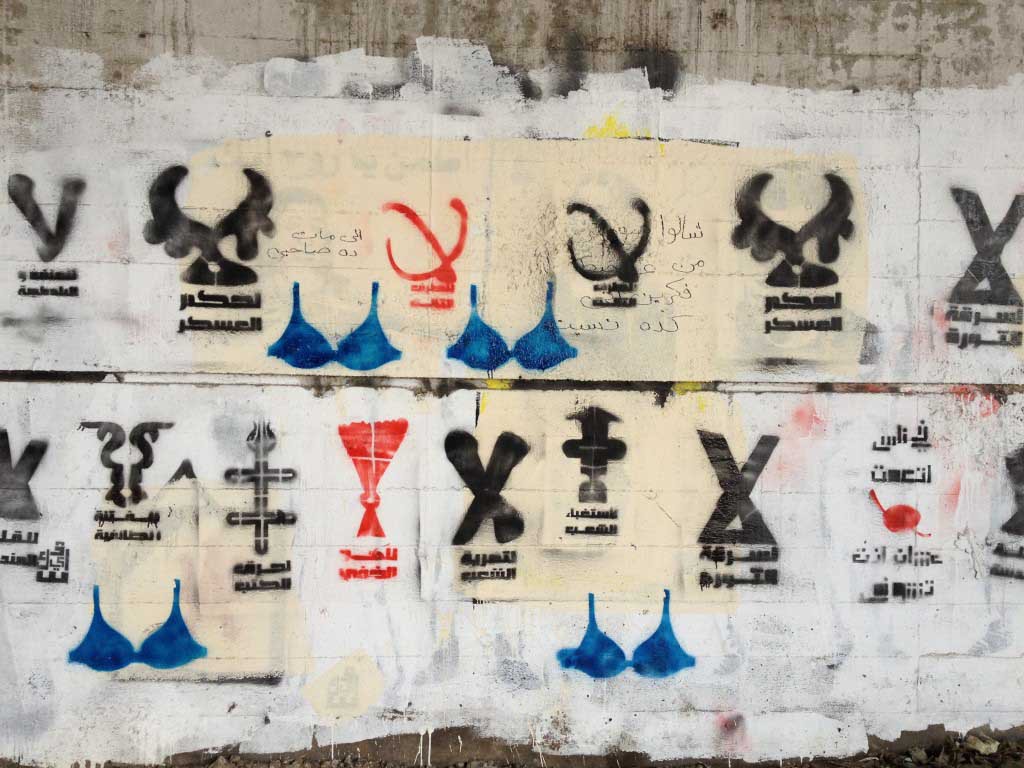 Mahmoud Shaltout (Mac Toot)
Under his nickname, Mac Toot, Shaltout's cartoons aim to deconstruct social norms such as gender role stereotypes and the social stigma against women. Most of his comics feature two female characters that he created since his childhood.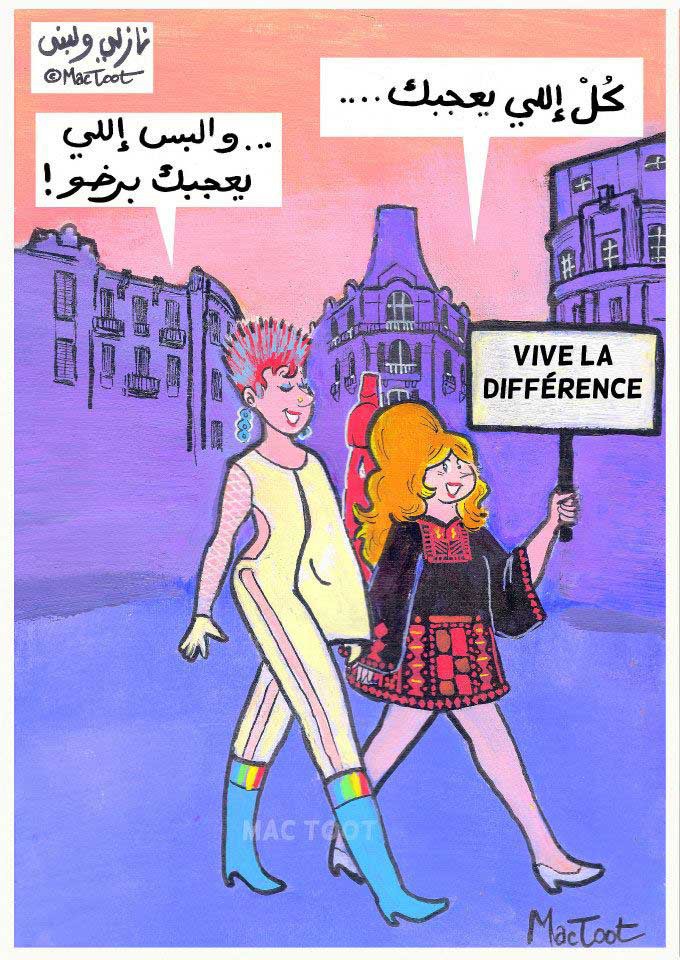 Mira Shihadeh
A wonderful graffiti artist who fights harassment through her beautiful fearless work! Her most famous piece was the circle of hell which shows a girl surrounded by men harassing her, a scene many girls who participated in demonstration are familiar with. She painted many other graffiti artworks about harassment. Another very famous one was the graffiti of a girl wearing a red dress and using a spray can to stop harassers as if they were bugs.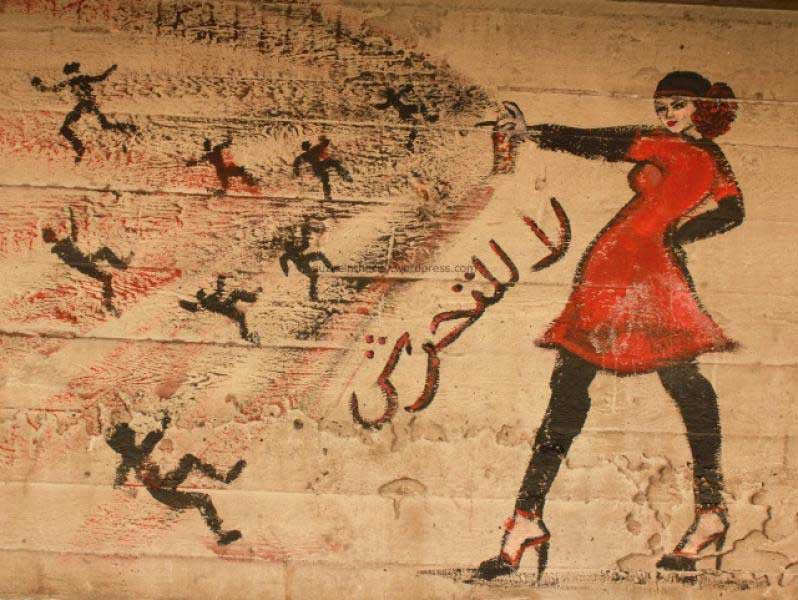 The oppression which most women have faced (and continue to face) is more than just that. It becomes an inspiration to those who want to make a true difference. An artist's brush can speak volumes on women's rights and we're glad those artists have taken it upon themselves to do so.