Edited by Yara Alsayes
All over the streets of Cairo, talented craftsmen lay out their beautiful handworks, created with meticulous artistry, for sale. Using the sidewalk as their store, the by-passer becomes their buyer. The unique, colorful, artistic yet practical products they present are guaranteed to beautifully enrich your home. So, if you ever feel the need to embellish your home with traditionally exquisite handworks, here are five different handcrafted decorations you can buy, from five different craftsmen on the sidewalks of Maadi, Cairo.
Rugs 
Ever walked into a room, and felt like it needed a radiating pop of color? On Street 81, branching from Street 9 in Maadi, beautifully woven cotton, wool and velvet rugs are sold on an empty sidewalk. Made in Asyut and brought here by Mansoor Badawy, these rugs come in a spectrum of colors, sizes and patterns with prices ranging from 35 EGP to 650 EGP. Head on over there, and you're bound to leave with at least one rug under your arm! It's almost inevitable.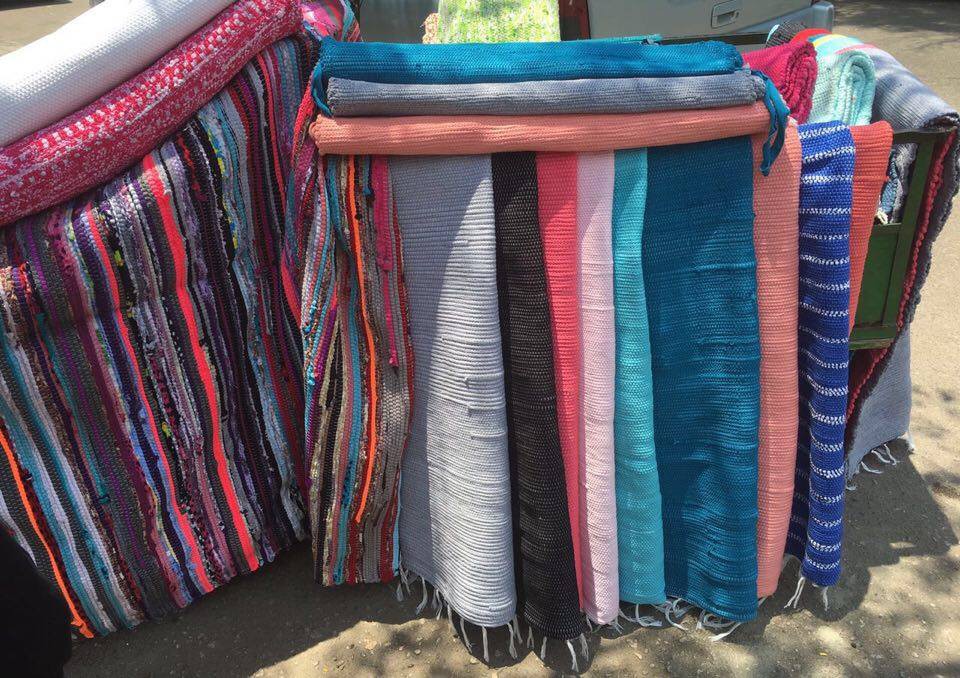 Kleem 
Add some authenticity to your home! Kleem is a traditional Bedouin rug that are usually made in vibrant colors. At the beginning Street 213, off Street 233 is a little stand that sells handmade kleem in a variety of sizes; some big enough to fit a whole room, to smaller ones that you can place in a hallway or even use as a yoga mat! The prices are very reasonable ranging from 30 EGP to 150 EGP. They're all 100 % cotton which is a plus!
 Woven Baskets
Sometimes we just get bored of presenting baked goods to guests in a fancy tray, or even storing our small belongings in plastic boxes. There's a solution for that. Walk onto Street 83, keeping Street 9 in Maadi to your back until you reach the first intersection. There, to the right, Mohammed Goma'a sells an array of hand woven baskets, made out of palm tree wicker. Initially made in Fayoum, these baskets are a great and different option for presentation and storage!
Pottery Decorations
Will outdoor light covers help give your garden more extravagance? Or will a mushroom statue liven it up a little? On Street 250, next to Grand Mall in Maadi, Eng. Fayek sells just that. Made in Masr El Adeema out of Aswan Clay, these handcrafted clay works also include all kinds of pots thoroughly carved with multiple decorative designs. These not only work outdoors, but work in doors as well! The decision is yours.
Woven purses and laundry baskets
As chores become a part of our daily routine, we tend to overlook the ways with which we can revamp everyday objects. Take for instance the laundry basket, ever thought it can be made of anything other than plastic and cloth? You may have not thought of it, but Abou Ahmed did. On Street 206, in front of Grand Mall in Maadi, Abou Ahmed sells all kinds of everyday objects initially brought from Fayoum and made out of palm tree wicker such as laundry baskets, purses and even chairs. And as the cherry on top, the prices range from 25 EGP to 180 EGP!
Ceramic Pots
Handcrafted decorations tend to have beautiful cultural essences, which contrast perfectly with our modern interior designs. Handmade ceramic pots are no exception! On the Autostrad Kattameya Ramp, Eng. Fakhry sells stunning ceramic pots embedded on the surface with mosaic works. They are originally made in Alexandria and sold here alongside fiber statues and clay works. You can use one of these pots as a plant holder, as an extravagant storage space, or simply as a decoration in the empty corner of your salon. In all cases, it will energize any space it's placed within and what more does one need for a lively home?