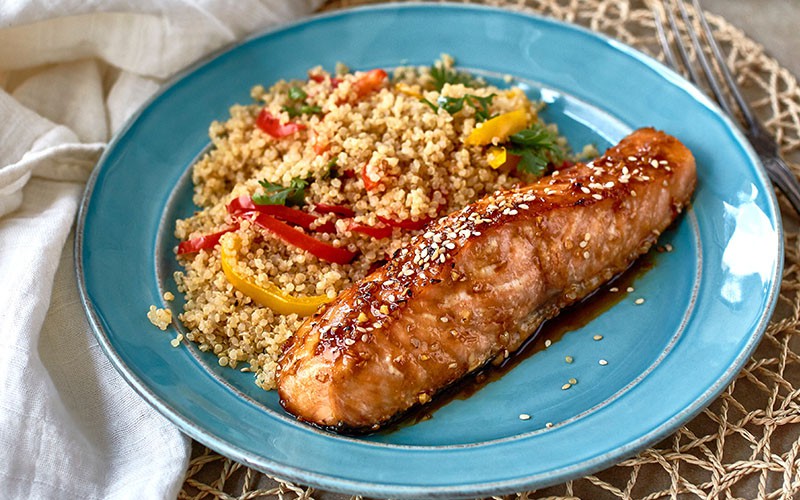 Glossary
Try this recipe with ginger sweet
teriyaki sauce and served with
quinoa stir fry. This plate is ideal
for athletes who are looking for
high protein and complex carbs
intake.
Tips!
While salmon is cooking, prepare
quinoa. While quinoa is cooking
prepare veggies.
In the Box
1/2 cup Teriyaki Sauce
2 salmon fillet
1 cup quinoa
1 red bell pepper thinly sliced
1 yellow bell pepper thinly sliced
2 clove garlic minced
1/2 tsp ginger grated
1/8 tsp red pepper flakes
1/2 tbsp sesame seeds
1/4 cup cilantro
What you need at home?
Saucepan
Large pan
Olive Oil
Salt & Pepper
Cook Salmon
Preheat oven to 200 degrees.
Place salmon in a large ziploc bag and add marinade (leave 2
tablespoons aside for later). Place in refrigerator for 15 minutes, up to 1 hour if you have time. Remove salmon from ziploc bag. Place skin side down in a pyrex. Bake for 15-20 minutes or until salmon easily flakes with fork.
Cook Quinoa
While salmon is cooking, prepare
quinoa. Rinse quinoa with tap water, combine 1&1/2 cups of water and 1/2 teaspoon salt in
a medium saucepan, bring to a boil. Add quinoa and cover
reduce heat to low; simmer until all liquid is absorbed.
Remove from heat and let stand another 5-10 minutes. Fluff quinoa with a fork.
Cook Veggies
While quinoa is cooking, heat 1 tablespoon of olive oil in large pan over medium-high heat.
Add minced garlic, ginger, and sliced bell peppers; cook for 2-3
minutes while turing frequently.
Finish plate
Add quinoa to vegetables, then add salt and pepper to taste and red pepper flakes if desired spicy. Sprinkle with cilantro according
to taste.
Serve!
Divide quinoa into two plates, serve salmon on top. Sprinkle Salmon with sesame and drizzle
with teriyaki sauce reserved from step 1.
Share the fun!
Take a picture of your creation and share it using #justcookit
Powered by
FB: Just Cook
IG: @Justcookeg