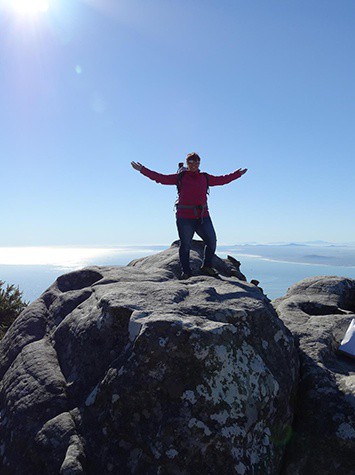 Passainte's work as Online Marketer and Content Manager at Travelstart Egypt isn't the reason why she has toured the world. In fact, it's only a plus. Her trips have inspired us to travel more, and to meet up with her to get travel tips and tricks. Passainte discovered her passion for travel when she participated in a photography expedition to South Africa. There, she experienced real safari and her passion for travel bloomed.
Have you always known you wanted to work in travel?
Not at all, I was always fond of photography while studying Law, but my parents were not okay with the idea of me switching careers. I kept switching jobs while blogging about travel and photography. It wasn't until I climbed Kilimanjaro that I had a moment of clarity and decided to do what I love for a living.
 It wasn't until I climbed Kilimanjaro that I had a moment of clarity and decided to do what I love for a living
Are some people just better at going on adventures and accepting new cultures?
I wouldn't say better, but it's definitely about being accepting of others and being more flexible and tolerant of other people's cultures and adapting to their cultures. Being open and adventurous leads to the addiction of exploration and travel.
What's the difference between a traveler and a tourist?
A tourist is someone who is crossing places off their check list; they get the bare minimum of the experience. And a traveler immerses themselves in the culture; the food, the local encounters, and is open to taking risks and embarking on life changing journeys.
Many think it costs a lot to travel. How do you manage to travel on a budget?
Traveling doesn't always have to be expensive. It all depends on the choices you make. Like making an early booking, deciding to stay in hostels or camps, eating street food instead of restaurants and avoiding tourist scams. Avoiding high season is also crucial.
Traveling doesn't always have to be expensive
What is a country you can't wait to go to?
That's a tough one, but I have to say Italy, again. This time I want a culinary experience where I get to learn at the hands of Italian Chef, moving around on a Vespa and writing a book about the experience.
 What's your favorite country to travel to?
I would have to say South Africa, the people there are friendly and activities and experiences are always just around the corner. Also England; London is the perfect place to live.
Are there destinations that are better for certain states of mind? Such as post-breakup destinations, honeymoon destinations, recovery destination… etc.
That is highly personal, a beach or a yoga retreat could be different things for different people. Island-hopping in Asia or game-viewing in Africa are a dream couple's trip in my opinion. It's important to pick carefully when traveling according to one's preferences and needs.
What are 5 essential tips every new traveler needs to know?
Book early (at least 8 weeks in advance)
Travel off-season, your best deal would be shoulder-season (that's the season before or after the high-season)
Don't spend too much on accommodation, you will only sleep there
You can book everything online
Read a lot about your destination, so you won't act like a tourist and be subject to tourist scams
What are the 5 most important things you've learned on your trips?
To be practical
That nothing can stop us from achieving anything in life, no matter how difficult or challenging it is.
To appreciate the little things in life, hence be less demanding and happy with less
I learned a lot about myself as a person, and how far I can push myself
To be rebellious, always wanting to break the routine or anything that anchors me down