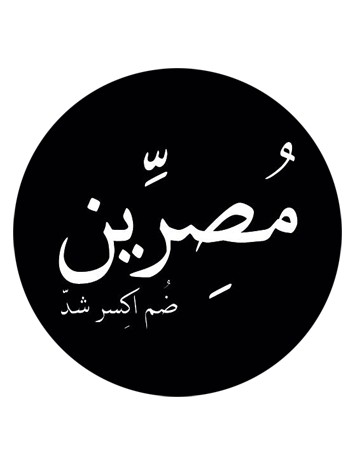 Interviewed on 27/12/2013
They are revolutionary, they are fearless and they are so much determined to uncover lies and hidden realities. They are all armed, women and men, with a wide lens that defines citizen journalism. Cameras, smartphones, computers, projectors, an open space, you name it, Mosireen is all about documenting and highlighting the truth wherever they go, spreading itto counter the state media machine. All of Mosireen's footage is either contributed by individuals, who were present at these events, or footage that Mosireen's volunteers and staff have shot themselves. We sat with Morsireen's team to find out how alternative media are tools of resistance in revolutionary times.
"The initial idea of a media collective started post the 18-days in Tahrir when there was a pressing need to document the first army attacks on protesters during the sit-in for ousting Ahmed Shafiq, Prime Minister at the time", Lobna Darwish, one of Mosireen's founders explains to us. With the birth of groups like No Military Trials, Morsireen was able to join in those campaigns by supporting causes with media coverage of testimonies evidencing violence and army violations against civilians. Post the infamous torture and virginity checks on 9th of March 2011, Morsireen's search for a space to work was unprecedented according to the few members we spoke to.
By the beginning of May 2011 Mosireen's founders established a central location for their scattered work, and began to organize according to events and the revolution's needs especially in terms of media coverage. "The main idea was to counter the biased state media or even privately owned mainstream media, and spread the news about the revolution from a street-level perspective", Salma Said says.
One of the main services of Mosireen is archiving, which began even before Mosireen was founded in the 18-days in Tahrir in the "Media Tent." "Many activists at the time felt the urgent need to collect all footage showing police violence knowing that it will be useful in the future for documentation purposes to tell the story of the revolution from the people themselves, or for legal-use to convict those violators", Said explains. Morsireen continues to do this work until today by collecting all images from the revolution and incorporating it into their video production, and archive it into what will be known as the people's archive of the Egyptian revolution.
They have used this archive in many ways to tell the story of the revolution with simple editing that they have done; they were able to share it with others via YouTube over the Internet or Tahrir Cinema in Tahrir Square via projectors and deserted advertising billboards."Mosireen encourages all groups or individuals in different provinces across the country to download, and share the stories of the revolution told by the people themselves over the streets and squares of Egypt not just the Internet", Darwish emphasizes.
Since Morsireen is a non-profit collective and its work is licensed under creative commons, the main aim for their work is for the footage and the message of them to spread; to push the boundaries of the mainstream revolution's discourse to become more reflective of the people's discourse of what really is happening documented by the people involved themselves, which mostly doesn't get cover by traditional media outlets. This in many ways is a collection of what already exists in many of average people's Nokia phones and being transferred over Bluetooth in metro cars and microbuses; Mosireen collects all and any footage that they could find and turns it into a beautifully edited short videos highlighting the truth told by the common people.
A turning point for Mosireen's work was October 2011 with the horrific Maspero events. "The first video Mosireen produced and uploaded on their official YouTube channel was documenting the Maspero Massacre to which mainstream media have turned a complete biased eye", Said says. "Mosireen, however; was able to collect most visible and evidential images of violence and attacks and turned it into a video that went viral countering mainstream debate about what really happened on that black day, 9th of October 2011, from start to end", Darwish adds. This kind of work developed as events intensified with Mohamed Mahmoud street and the Occupy Cabinet clashes during winter 2011 making citizen journalism the center of raw information, which also made Mosireen hit its highest peek with the most viewed non-profit YouTube channel in the world and in Egypt of all times with over 4.5 million video views.
"All this was because Morsireen volunteers, staff, and/or supporters were present to capture those iconic images of the revolution that no one can ever forget;the tortured face of Abody at the Occupy Cabinet sit-in, the death of Sheikh Emad Effat, the army dragging dead bodies in the trash, the death of Alaa Abdel Haddy, and the Kazeboon campaign", Said tells us. "Mosireen was able to push the mainstream media discourse because traditional media didn't possess images of the frontlines or were not allowed to be present close to the action when individuals, activists, or Mosireen staff were right there geared with professional cameras capturing every bullet and tear-gas canister being thrown at the frontlines of the battlefield, so the traditional media was almost forced to show the footage of what was happening at these events from the camera angle of Mosireen and their likes."This is when citizen journalism became the focus of traditional media because they were not present at the frontlines of these events, so they were forced to use our footage, shot and edited by citizens", Darwish says.
"There is a huge difference between citizens who are just taking out their phones or cameras to record what is happening in front of them, and a professional who is simply doing his job by covering events in the form of story to report on it for whatever agency he works for", Salma Said explains.
During most clashes, Mosireen relies on various people's images that they collect and produce into one or two videos, so it is the best of all parts to tell the most honest story about a certain moment or a specific event. "These little efforts from numerous people are what make Mosireen's work unique. Most of the iconic images that went viral were from people who were present at the time an event took place, and someone who knows someone who knows us directed us to them to get the footage and put it in the story about that event like what happened with the Christians in Dahshour", Darwish explains.
Another big part of Mosireen's work is providing training workshops, renting filming gear, or the space to use editing equipments. The aim of conducting photography, filming, and editing workshops in Cairo and also other provinces is to empower citizens with the skills to be able to do Mosireen's work on their own and encourage them to start similar collectives. "The idea is to not have one source of information or footage whether TV or us, but to have various sources coming from everywhere, and to encourage others to spread news relevant to them in their own ways and means", Mostafa says.
"The dream is not to go to Qursia to document the people's testimonies of army's attack on them, but for the people of Qursia themselves to do so on their own, which would be more reflective of their experience than us going for few hours to film and leave. Everyone is already filming on their mobile phones, we just help anyone tolearn how to shoot in a good way, upload, and encourage them to share their work", Darwish explains.
One of the easiest ways one can contribute to Mosireen's successful initiative is to simply share and spread their videos whether from their YouTube channel, and by visiting their office in Down Town Cairo to learn more about their activities and events or visit their website Mosireen.org. Mosireen is a self-funded independent collective that largely relies on the generosity of others to be able to continue their very-much-needed work, so every donation and volunteer help cement this inspiring media collective resisting commercialized agenda-driven media.  With the explosion of citizen journalism and the emergence of Mosireen and other independent media tools, the naked truth will shine on for everyone to see.