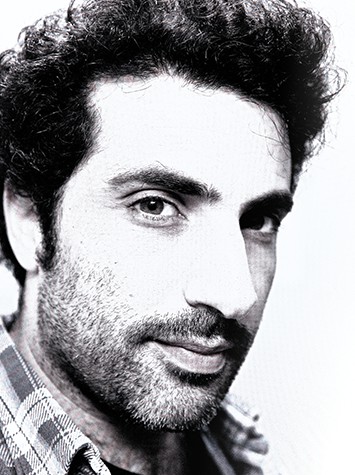 He's a soldier, he's an artist, he's an anarchist and he's one hell of a revolutionary. He creates everything that has an impact on human qualities and he believes in life. He has worked on public awareness campaigns, corporate video productions, and has released three retail albums. Currently, he is finishing his first Arabic album "Mamnou El Intizar" (Waiting Forbidden).
During the revolution and while you're reading this article, Omar is always busy tweeting, blogging, documenting history to share it with his fans, "I've been blogging for a long time and I've been writing as well.  I started writing because it's a very good way to organize my thoughts. I used to pick up the phone and call the editor of the Daily News Egypt when I had a topic in mind for an Op-Ed piece. I write about politics when I feel that there is something I need to share with people and create awareness about", he tells.
"I work in media and I try to avoid doing anything I don't like. I used to work in jobs I didn't like much, which turned out to be a waste of time. I'm a freelancer and I don't have a fixed income. If I'm broke, I do things that I don't necessarily enjoy. Yet there are things that I'm totally against, so I don't even do them when I'm broke. In my opinion, you shouldn't be doing something that doesn't have an absolute value at all", he tells.
As a fresh graduate, Omar was a rebel with a cause. His parents thought that he kept himself busy with things that lead to nothing. "I have no idea what a career is, I started making music because I enjoy it. People shouldn't be scared. They should try to do things they like, for otherwise they would be killing themselves spiritually, emotionally and mentally. Why are people so worried about making a career? I have friends with big career jobs yet they tell me that the price is huge. Even in music, I don't like the business side of it", he adds.
Apart from his passion for music and writing, the passion for Egypt is a key element in his life. On February 2nd, the day camels and horses stormed Tahrir Square, he switched off his TV and went right back to join the protestors in Tahrir, "It was crazy and I couldn't believe myself when I first saw the picture, it looked like a time machine movie. It was very stupid of the regime to think that they'll scare us away, to their surprise, the number of protesters exceeded every time they tried. The thing is they're very far away from the real picture, they never got us right. When Mubarak stepped down, I was telling people that we can't leave the Square. I think we left too early, which is why we have to go back", he points out.
One of his recent posts touched upon the current situation in which he describes 'The Two Histories of Egypt' in which he suggests two scenarios: In one history, the people of Egypt, after having been ruled by an aging tyrant, rose up and rallied against their oppressors. The army would not pit itself against its own people, and the people overcame their fears, sacrificed life and blood, and made their voices heard. The army maintained a noble, if neutral position, acting only for internal peace and external defense. The nation prospered. The other history of Egypt is somewhat darker; people survive the imbecilic thugs, the horses and the camels. By referring to the event as a revolution, they make heroes of the nation as well, and the nation breaks out into song and rejoices. Meanwhile, under the radar, rogue elements from the military, in alliance with the fragmented and still unaccountable security forces get together, and they start to operate. They detain protest organizers. Some they scare, and some they torture. The laws themselves do change, as does the constitution, but those who did terrible things, those to whom the law did not apply, are now simply invisible, above the law, and they continue to do terrible things. The nation is weakened, step by step, and in time the people come to realize that it was not so much a revolution as a reboot.
Omar likes the first history 'a whole lot better'. Like everyone of us, Omar was hoping for a revolution to take place as soon as we could make it happen, "I've been hoping for the shit to hit the fan in Egypt in the last 10 or 15 years and every time I tell my friends I was hoping for this, they would tell me that people are uneducated and its going to be a mess. I'm an anarchist and I genuinely believe that there is always going to be trouble, there are a lot of bumps. We are democracy in training and are going to have to hit a few walls. Some people have many weird ideas of democracy. I was posting a Facebook video and I got a very weird response from some guy who told me that we're in a democratic country and I don't have the right to impose my opinion and share it! The thing is that anyone is totally free to ignore me! People still have a very immature conception of democracy and the definition of democracy is not about zipping your mouth", he adds, "I spoke with a cab driver about Article 2 and told him that he won't lose anything if it was removed so the guy told me 'how come I won't lose anything, a Christian president would come and that wouldn't be good' was his answer. The same cab driver also had problems with Dr. Baradei becoming president as he believes that if he supports homosexuals we would be doomed as a nation. So if Baradei took office everyone would become gay? It is very stupid of course. I think that there are people who are more ready than others, it's going to be a bumpy road, but it is fine", Omar states.
From politics to music his spectrum is wide. In his upcoming album 'Mamnou El Intizar", he wrote a song called "Tadrib" that speaks about getting within the screaming distance of one's demons. His album "Moonrise" is a traveler's must-have. The song "Running Up a Dune" contains harmonious infusions that will transfer you to an ecstatic feel.  When many artists in the Arab world are getting new looks to promote their albums, Omar wasn't pretty much thinking the same. He has another approach for promoting his music "I appear on the new album cover wearing a plastic bag on the head. I don't understand why an artist's looks should be an approach to his success. The music really matters for the people who care about listening, my writings also are for the people who care about reading, but why should people care about me or my looks?", he wonders.
With many post-revolution songs hitting the scene in a very short time, we started wondering how the future of the music scene in Egypt would look like. Are we still singing about love and its torture? Are we still singing about fruits like 'El 3enab'? Or we will shift to other topics discussing our revolutionary feelings? "We will now have a genre of 'political' songs or 'political music'. For example, we will create forms where the music itself is angry, is threatening, is condemning, is calling for action. The change of possible lyrical content would bring about the rise/evolution of musical forms, of actual sounds that would work with the new lyrics, because the old forms simply won't fit in with the new style of content. I imagine most music producers will remain fairly gutless, as they usually are. You've certainly got a point there, the audience might be more open to change, though, I think they always have been, but producers have just been too scared to really test the ground and musicians who want to 'guarantee' their success also tend to take less risks. But I think people will start to get over their euphoric daze and get passionate about things" we are told, "Of course it might take a while for angry songs because a lot of people are still in the Revolution-Honeymoon phase".''
Music Lessons by Omar Kamel:
 Belgium has an incredible music scene. I've been listening to a band called dEUS and they're amazing. dEUS have songs that sound like Funky Jazz, Punk, Supermarket music. I just like the fact that they've got lots of variety.
    I was avoiding Arabic music so I decided to write reviews about the music scene from Mohamed Mounir to Hany Shaker. I ended making observations that about 10 or 15 people are the only ones who write music in the field. What happens here is that if Amr Diab picked 5 to 10 songs by a certain song writer Tamer Hosny or any other artist will pick the rest by the same writer.
   Abroad, there is a dominant Pop music section, but you'll find shelves for Indie records too. It doesn't matter so much that the unknowns aren't big but they have an outlet and they have their fans. When I started working on my Arabic album, I didn't say Amr Diab sells 10 million copies, so I have to sell. I mean if I have 10000 listeners, I'm more than happy.
    I wanted my lyrics to be very normal, nothing of this shit of romantic lyrics out there. We're a country that has too many problems and if we continue to just talk about romance we would be fools. If I were an alien and landed in Egypt, I would say that the Egyptian people solved all their social problems and are just singing about romance, that's really silly.
   Art has to be sustainable, if I'm not making enough money through my art then I shouldn't count on it making a living or I should stop doing it.
    Nothing could ever stop a musician from making music, even a full time job.
So if the world should really end in 2012 make sure to get hold of Omar Kamel's art.